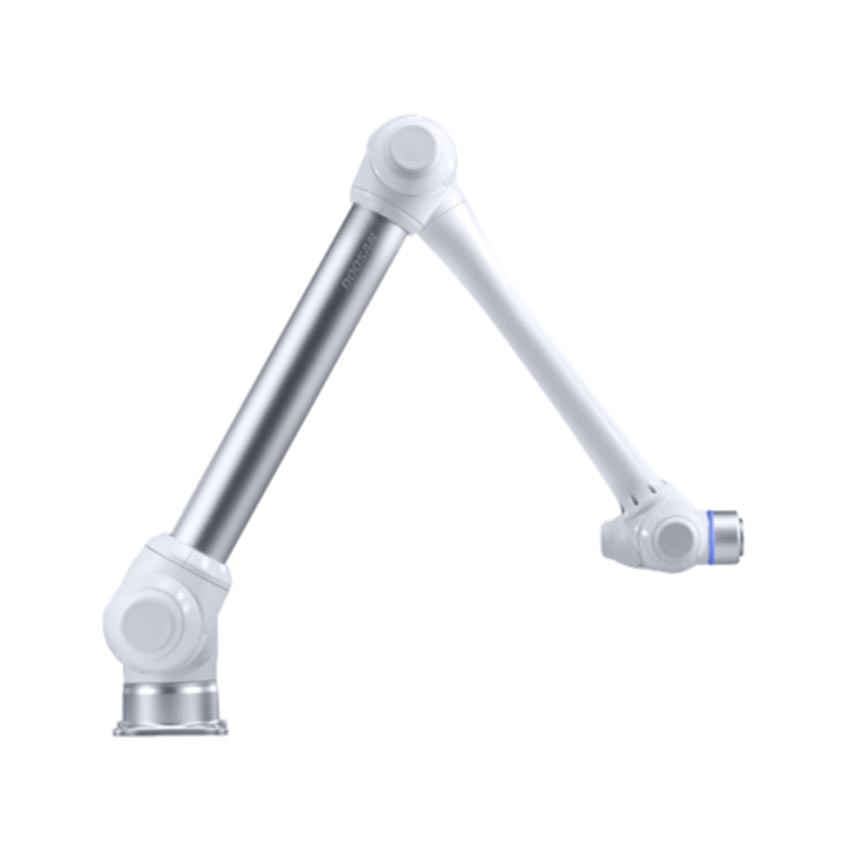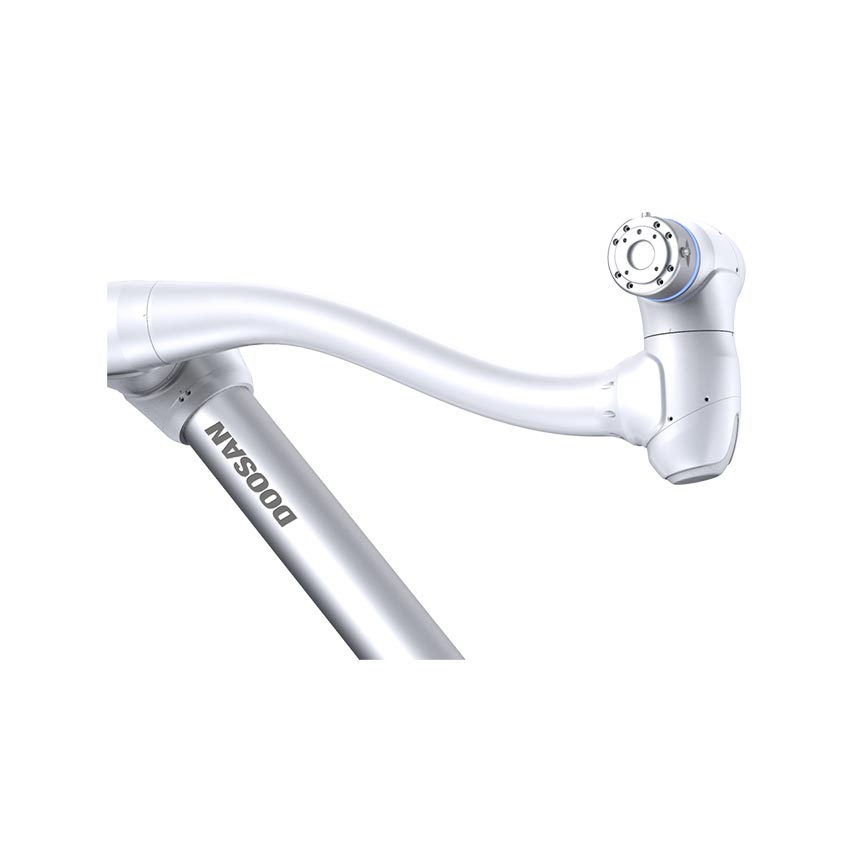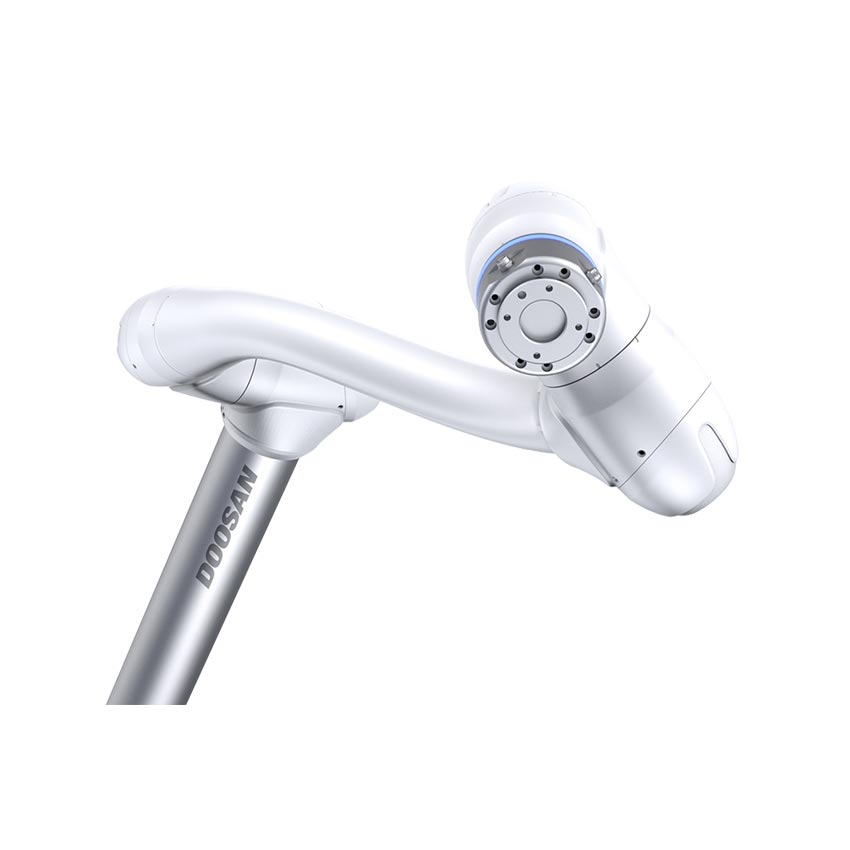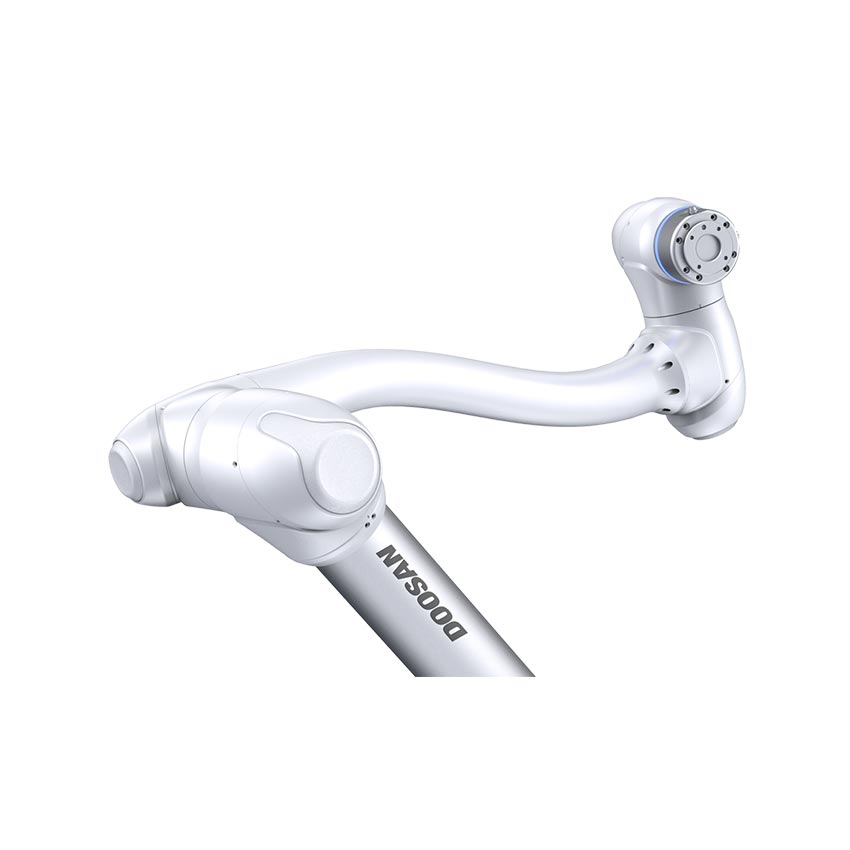 The M0617 is a member of
Doosan
's premium M-Series of cobots. With 6 built-in torque sensors, extremely high sensitivity can be achieved for demanding collision detection tasks and applications which require a high degree of accuracy. The Doosan M0617 cobot offers a robust 6kg payload and a reach of 1700mm. With its solid payload and impressively long reach, this large cobot is ideal for a variety of tasks and applications – especially those requiring precise torque control and long reach.
From 1.000,00 € a month with lease buy or installment.
Learn more
Overview

Compare

In the box

Use case combination

Specifications

Description

Downloads

FAQ

Similar products
Master+ Force Control
Six advanced torque sensors for demanding tasks offer superior force and compliance control.
Master+ Safety
Advanced torque sensors detect minute changes in force of up to 0.2 N, providing the highest collision sensitivity in the industry.
Featured on Unchained TV
Vorführung
Maschinenbedienung
Montage
Industrieübergreifend
Die Cobots der Doosan M-Serie erledigen eine Vielzahl von Aufgaben mit Leichtigkeit
Pick & Place
Chemie
Pharma
Einfache Pick&Place-Automatisierung mit einem Doosan Cobot und dem DH Robotics PGC-140 Greifer
Maschinenbedienung
Metall
Automatisierung der Maschinenbedienung mit einem Doosan M0617 Cobot
Compare
Reach
Payload
Repeatability
Weight
Reach
Payload
Repeatability
Weight
In the box
Robot
Teach Panel
Control Box
Emergeny Off Button
Use case combination
Cobot

,

Doosan Robotics
Doosan Robotics M0617
+
Finger Grippers

,

OnRobot
OnRobot 3FG15
€4,239.00
- €5,655.00

excl. VAT.
+
Camera

,

OnRobot
OnRobot Eyes
Machine Tending
Machine loading is an ideal use case for the M-Series. With a modern 3-finger gripper from OnRobot such as the 3FG15, machine tending can be easily and precisely automated.
€45,572.00
excl. VAT.
Cobot

,

Doosan Robotics
Doosan Robotics M0617
+
Finger Grippers

,

DH Robotics
DH Robotics AG-95
Assembly
The Doosan M0617 makes it easy to automate assembly tasks. An ideal gripper might be a DH Robotics AG-95. If vision is required, the proprietary OnRobot Eyes can be easily integrated.
€38,950.00
excl. VAT.
Cobot

,

Doosan Robotics
Doosan Robotics M0617
+
Sanders

,

OnRobot
OnRobot Sander
€3,010.00
- €7,492.00

excl. VAT.
+
Camera

,

OnRobot
OnRobot Eyes
Grinding and Polishing
Grinding and polishing are perfect applications for the Doosan M-Series. With the OnRobot Sander (and a suitable vision solution if required), grinding and polishing can be effortlessly automated.
€44,343.00
excl. VAT.
Arm
Reach

1,700

mm

Payload

6

kg

Weight

34

kg
Performance
Max. linear TCP speed

1

m/s

Repeatability

0.5

mm

Min. Operating Temperature

0

°C

Max. Operating temperature

45

°C

I/O Ports

6 Digitale Eingänge / 6 Digitale Ausgänge/ 0 Analoge Eingänge / 0 Analoge Ausgänge

I/O Power Supply

24V & 3A
Joint Movement (Range: ° / Max Speed : ° /s)
J1
-360 till 360

±

100
J2
-360 till 360

±

100
J3
-165 till 165

±

150
J4
-360 till 360

±

225
J5
-360 till 360

±

225
J6
-360 till 360

±

225
J7
-
-
Other Features
Mounting Direction

All directions

Certificates

ISO TS 15066
ISO 10218
Control Box
Dimension

490x390x287 mm

Weight

9

kg

I/O ports

16 Digitale Eingänge / 16 Digitale Ausgänge / 2 Analoge Eingänge / 2 Analoge Ausgänge

I/O power supply

24V

Communication

Serial (RS232) / USB 3.0 (RS422/485), TCP/IP. Modbus-TVP (Master/Slave) / Modbus-RTU (Master) / EtherNet/IP (Adapter) / PROFINET IO (Device)

Supply voltage

100-240 VAC

IP classification

IP40
Teach Panel
Dimension

264x218x42 mm

Weight

0.8

Cable length

4.5
The M series from Doosan is also known as the Masterpiece series. This name describes the approach Doosan take with these cobots: only the best was enough for these premium robots!
This series is equipped with special sensors which provide impressively accurate torque measurements. This built-in precision can be used in a wide range of applications from welding and assembly to material removal and machine tending.
Some advantages of the Doosan Robotics M0617:
Reliable & Innovative
The M-series comes with cutting-edge control algorithms and is based on a proven high-performance software platform. Further, programming is the cobot is easier than ever thanks to Doosan's App-based programming.
Intuitive & Simple
Modern intuitive user interfaces are the norm today. And Doosan believes that that should also the case for robots. Consequently, the Doosan M-Series offers an interface similar to that of a smartphone or tablet. Program structure is simple and self-explanatory, making it easy to get started.
Sensitive & Secure
The Doosan M-Series offers advanced functional safety based on highly sensitive torque sensors in all six joints with a touch sensitivity of 0.2 Nm. These advanced sensors also make the cobot ideal for a large variety of applications requiring torque control.
Excellent & Practical
Precise and versatile force control with remarkable performance.
Other robots from Doosan
H2515 (Reach: 1500 mm, Payload: 25 kg)
H2017 (Reach: 1700 mm, Payload: 20 kg)
M1509 (Reach: 900 mm, Payload: 15 kg)
M1013 (Reach: 1300 mm, Payload: 10 kg)
M0609 (Reach: 900 mm, Payload: 6 kg)
A0912 (Reach: 1200 mm, Payload: 9 kg)
A0509 (Reach: 900 mm, Payload: 5 kg)

Other Doosan products: Smart Vision Module , Mobile Base

Did not find what you're looking for?
To place an order, send us an inquiry through the button at the top of the page or contact us through the chat.
Talk to an
Automation expert
Have questions about this product, pricing, or your automation projects? Fill out the form and an automation expert from our team will be in touch within 24 hours.