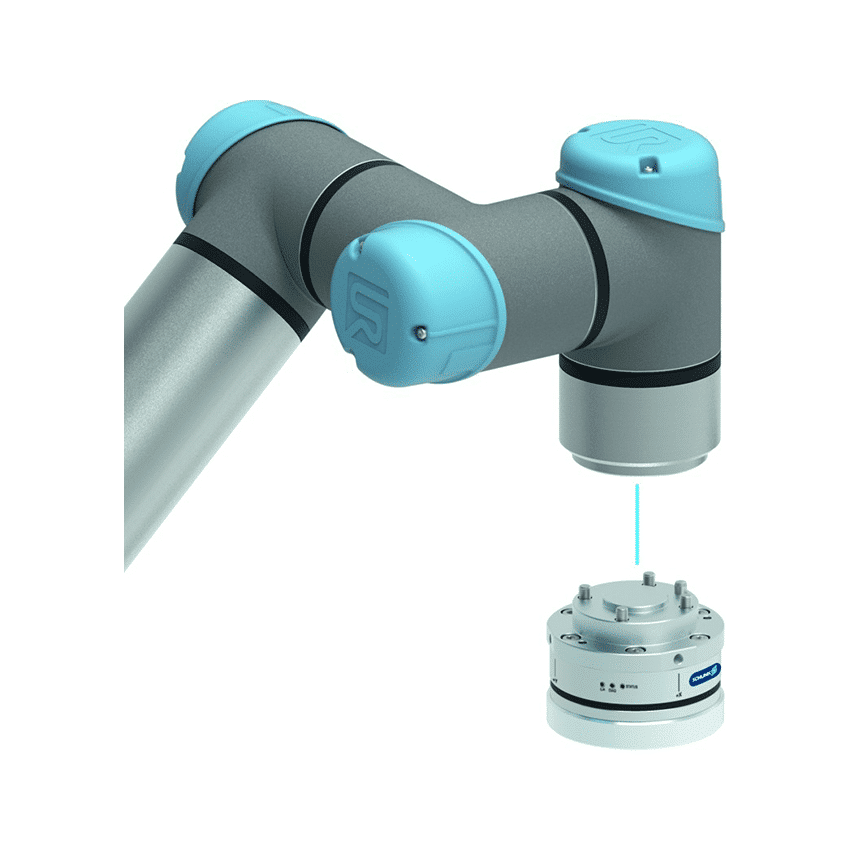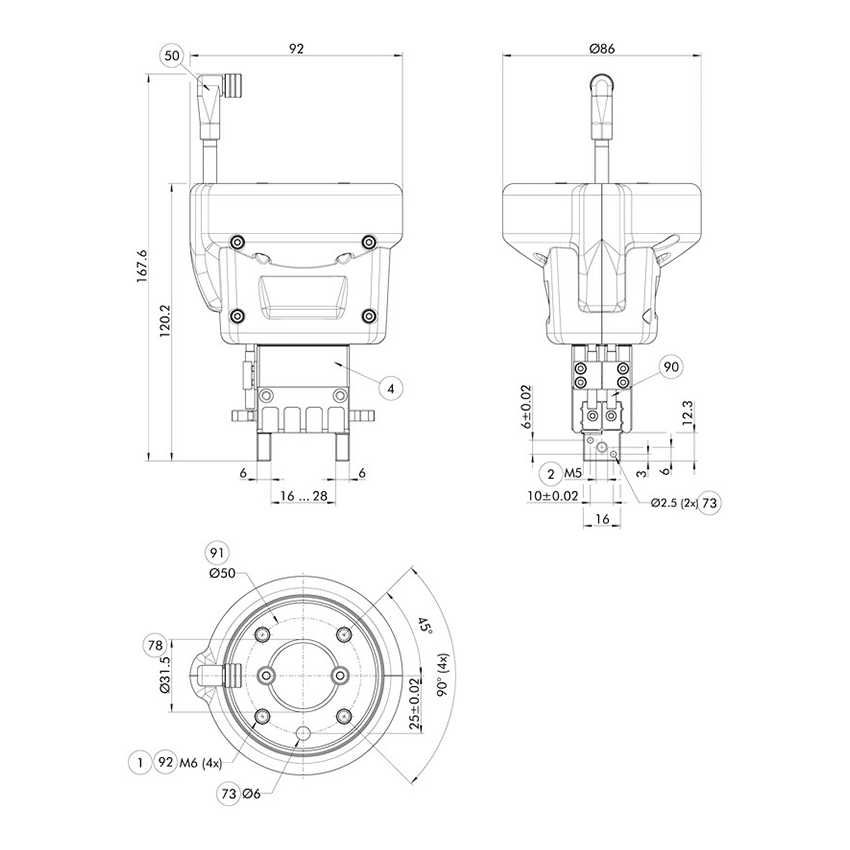 The SCHUNK FTN AXIA 80 is an end-of-arm torque sensor for Universal Robots. As part of the SCHUNK Plug & Work portfolio, this torque sensor can be easily integrated with grippers from the same series.
From 600,00 € a month with lease buy or installment.
Learn more
Overview

Description

Downloads

FAQ

Similar products
Dehnmessstreifen
Strain gages (DMS) measure the applied loads in all six degrees of freedom (Fx, Fy, Fz, Mx, My and Mz). The signals from the strain gages are processed directly in the sensor and made available as forces and moments via various communication protocols.
Sensor cable
The sensor cable connects the sensor through a 6-pin M8 connector with the control cable through an 8-pin M12 connector. The voltage supply and communication line are integrated and shielded in the sensor line. The highly flexible sensor cable protects the sensor signals from electrical fields and mechanical loads.
Control cable
The control line is a Y-distributor cable and is connected to the sensor line via an M12 socket. It supplies the sensor with voltage via a 3-pole open stranded wire and separately enables communication with the sensor via EtherNet or EtherCAT through an RJ-45 connector, depending on the version.
Featured on Unchained TV
Unfortunately, there are no use case videos yet for this product. Click here to watch other videos on Unchained TV.
The SCHUNK FTN AXIA 80 is a force-torque sensor in compact design. Due to the robust design, the 6-axis force-torque sensor can be used for precise measurements in all six degrees of freedom and ensures protection against damage even in case of short-term overload due to a high overload range. The design with LED indicators gives status indications on the sensor without evaluation via the controller.
The SCHUNK FTN AXIA 80 is part of the Plug & Work portfolio, which includes electrically and pneumatically controlled grippers, quick-change modules and force-torque sensors. The SCHUNK end-of-arm modular system allows a wide range of combinations to handle the product of your choice.
*Only available for Universal Robots
Technical Data
Net weight : 0.51 kg

Min. measuring range Fx, Fy: 200 N

Max. Measuring range Fx, Fy: 500 N

Min. measuring range Fz: 360 N

Max. Measuring range Fz: 900 N

Min. measuring range torque: 9 Nm

Max. Measuring range torque: 20 Nm
Did not find what you're looking for?
To place an order, send us an inquiry through the button at the top of the page or contact us through the chat.
Talk to an
Automation expert
Have questions about this product, pricing, or your automation projects? Fill out the form and an automation expert from our team will be in touch within 24 hours.