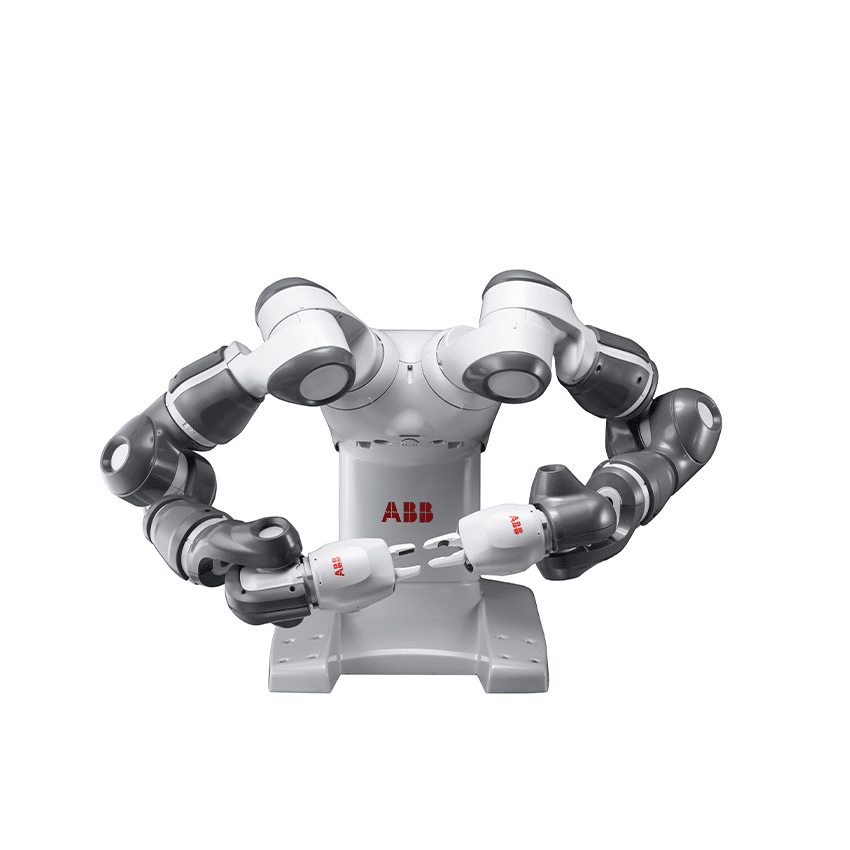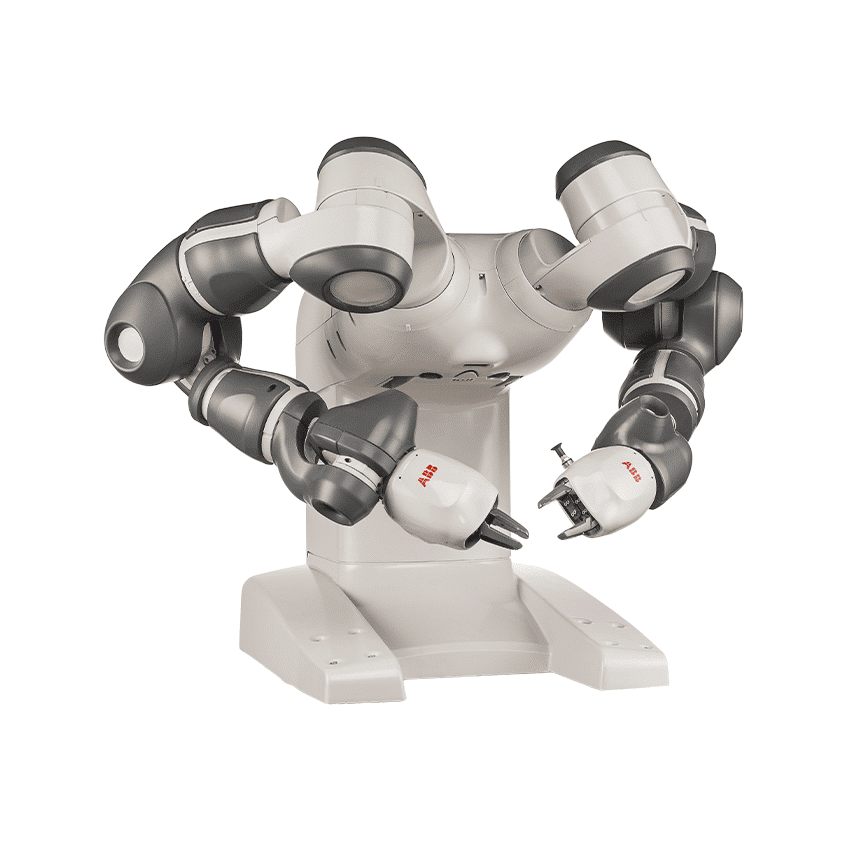 ABB's YuMi is the first truly collaborative dual-arm robot designed for production environments where humans and robots work together.
From 1.000,00 € a month with lease buy or installment.
Learn more
Overview

Compare

In the box

Use case combination

Specifications

Description

Downloads

FAQ

Similar products
Dual-arm Robot
YuMi features a precise vision system, dexterous grasping hands, force control sensor technology, and a powerful robot controller
7-Axis
Each arm has seven axes and can therefore move more like a human arm
Lead-Through Programmierung
With Lead-Through Programming, the operator can "teach" the robot new motions and positions by hand
Human-Robot Collaboration
YuMi has a lightweight magnesium skeleton with a plastic sheath covered with a soft protective padding.
Featured on Unchained TV
Unfortunately, there are no use case videos yet for this product. Click here to watch other videos on Unchained TV.
Compare
Reach
Payload
Repeatability
Weight
Reach
Payload
Repeatability
Weight
Use case combination
Cobot

,

ABB
ABB YuMi IRB 14000
Small parts assembly
With its two arms and wide range of add-on components, YuMi is ideal for a variety of small parts assembly tasks.
€51,000.00
excl. VAT.
Cobot

,

ABB
ABB YuMi IRB 14000
Testing applications
With its simple programming and interchangeable add-on components, YuMi is the perfect platform for testing early-stage ideas.
€51,000.00
excl. VAT.
Cobot

,

ABB
ABB YuMi IRB 14000
Research
As one of the few dual-arm robots on the market, YuMi is well suited for educational and research projects.
€51,000.00
excl. VAT.
Arm
Reach

559

mm

Payload

0.5

kg

Weight

38

kg
Performance
Max. linear TCP speed

1.5

m/s

Repeatability

0.02

mm

I/O Ports

4x Signal (E/A, Feldbus oder Ethernet)

I/O Power Supply

24V & 1A
Joint Movement (Range: ° / Max Speed : ° /s)
J1
-168.5 till 168.5

±

180
J2
-143.5 till 43.5

±

180
J3
-123.5 till 80

±

180
J4
-290 till 290

±

400
J5
-88 till 138

±

400
J6
-229 till 229

±

400
J7
-168.5 till 168.5

±

180
Other Features
IP classification

IP30

Mounting Direction

Boden

Certificates

Performance-Level PL b der Category B (EN ISO 13849)
ABB YuMi features a lightweight yet robust magnesium skeleton with a plastic sheath covered by soft protective padding. As a result, the forces acting in the event of unexpected collisions are absorbed to a large extent. YuMi has no pinch points, so no sensitive parts of the body can be pinched when the robot is in movement.
If YuMi registers unexpected contact, such as a collision with a human colleague, it can stop moving within milliseconds. Resuming movement is as simple as pressing the play button on a remote control. Even with these inherent safety features, YuMi is incredibly fast and precise. It can return to the same point in space over and over again with an accuracy of 0.02 mm and moves at a maximum speed of 1.5 m/s.
YuMi offers a payload of 500 g per arm as well as a reach

of 559 mm.
Features
Safe

Stops immediately on contact with a human or object
Does not have pinch points
Padded arms

Fully-Integrated Control System.

The control system is fully integrated into the robot itself

Precise and Nimble

Repeatability: 0.02 mm
TCP-Speed: 1,5 m/s

Suitable for the following tasks.



Small parts assembly
Testing and inspection applications



.

Did not find what you're looking for?
To place an order, send us an inquiry through the button at the top of the page or contact us through the chat.
Talk to an
Automation expert
Have questions about this product, pricing, or your automation projects? Fill out the form and an automation expert from our team will be in touch within 24 hours.