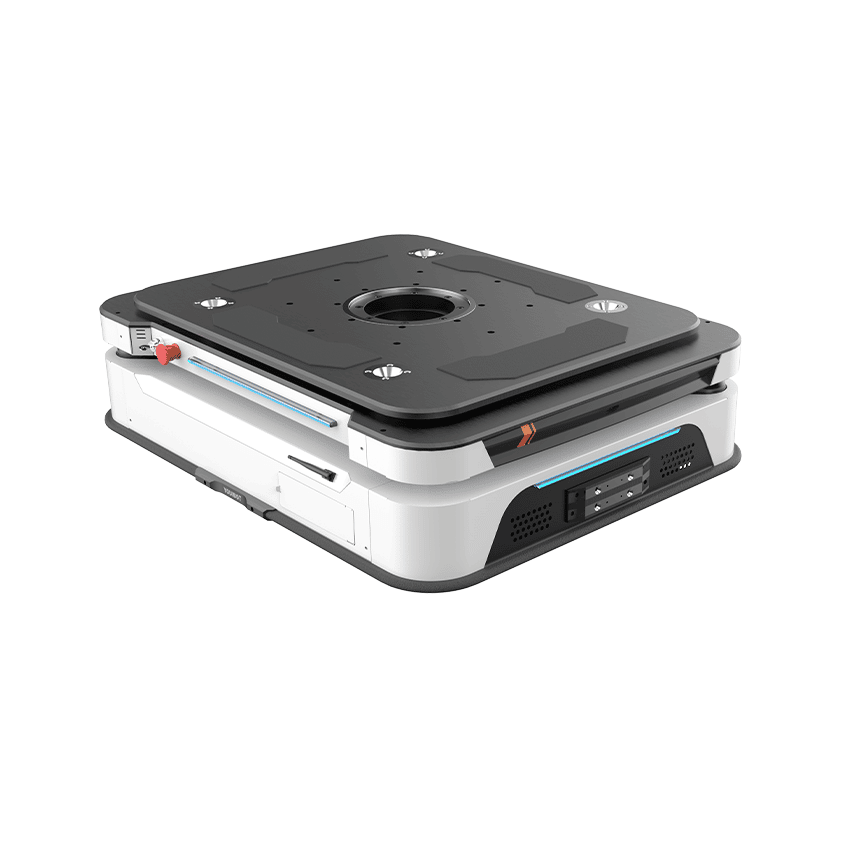 The
Youibot
L 1000-R is specially designed to optimize and automate internal transportation and logistics in an industrial setting. The L1000-R is a powerful AMR, offering a payload of 1000 kg. This system can be easily integrated with over 10 different kinds of operational modules for the handling of transportation tasks in manufacturing processes, warehouse logistics, and even inspection processes.
From 1.000,00 € a month with lease buy or installment.
Learn more
Overview

Description

Downloads

FAQ

Similar products
Easy to Deploy
The L1000-R offers automatic map creation. It includes all kinds of application software modules and universal interfaces to integrate with your enterprise's MES/WMS information systems. No custom software development is required.
Versatile
The L1000-R offers a built-in jacking mechanism. Jacking stroke is 60mm and can handle up to 1000kg. The L1000-R can handle a wide variety of carts and shelves.
Always at Work
All robot supports automatic charging, manual charging, and fast changing function. The robot can return to work status in as little as 60 s (at its fastest). 24-hour continuous operation
Sophisticated Safety
Equipped with two safety laser LIDAR systems, the AMR offers 360° coverage. Combined with a 3D vision sensor and other sensors, the system can intelligently detect and avoid obstacles. Multilevel security input ensures reliable, 360° protection.
Featured on Unchained TV
Unfortunately, there are no use case videos yet for this product. Click here to watch other videos on Unchained TV.
The Youibot L1000-R is designed to offer flexible and mobile handling and logistics in industrial environments. The Youibot L1000-R is ideal for the transportation of carts, shelves, and other workshop equipment and is capable of handling a wide variety of intralogistics tasks.
Thanks to its hybrid navigation technology based on laser SLAM (Simultaneous Location and Mapping), the L1000-R offers a repeat positioning accuracy of ±5mm. Further, the AMR can safely and reliably dock with a variety of devices with high precision.
Safety: Youibot mobile robots are equipped with several overlapping layers of security. Two high-precision safety lidars are located on the front and rear diagonals, providing full 360° coverage of the surrounding environment.
Charging: Youibot's industry-leading battery management system is designed to support automatic charging and fast battery change, meeting the requirements of 24/7 hours of continuous operation.
Power in Numbers: Thanks to Youibot's proprietary YOUIFLEET distributed intelligent scheduling system, L series mobile robots are easy to deploy and up to 200 units can function together collaboratively.
The YouiTMS logistics management and control platform connects material and information flow to meet the flexible production needs of enterprises.
Further Technical Information

Navigation mode: Integrated laser navigation
Path planning: Virtual tracking / Independent planning
Positioning accuracy: ±5mm,
Angle accuracy:±1°
Jacking height: 60mm
Jacking mode: 360°rotating mode & jacking mode
Jacking speed: 10mm/s



Did not find what you're looking for?
To place an order, send us an inquiry through the button at the top of the page or contact us through the chat.
Talk to an
Automation expert
Have questions about this product, pricing, or your automation projects? Fill out the form and an automation expert from our team will be in touch within 24 hours.