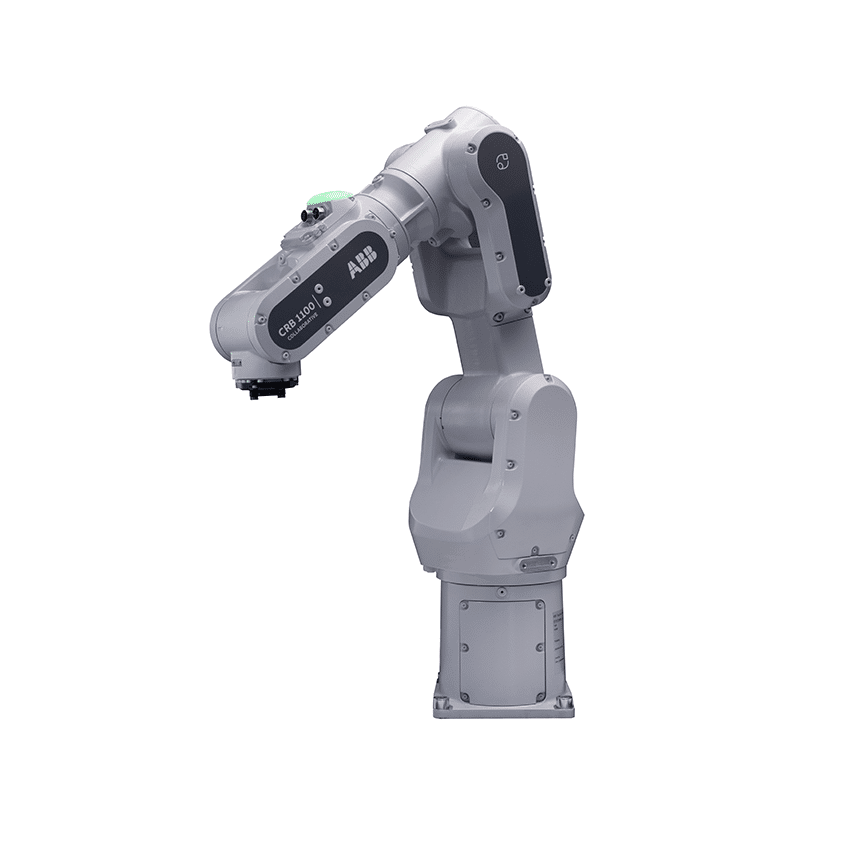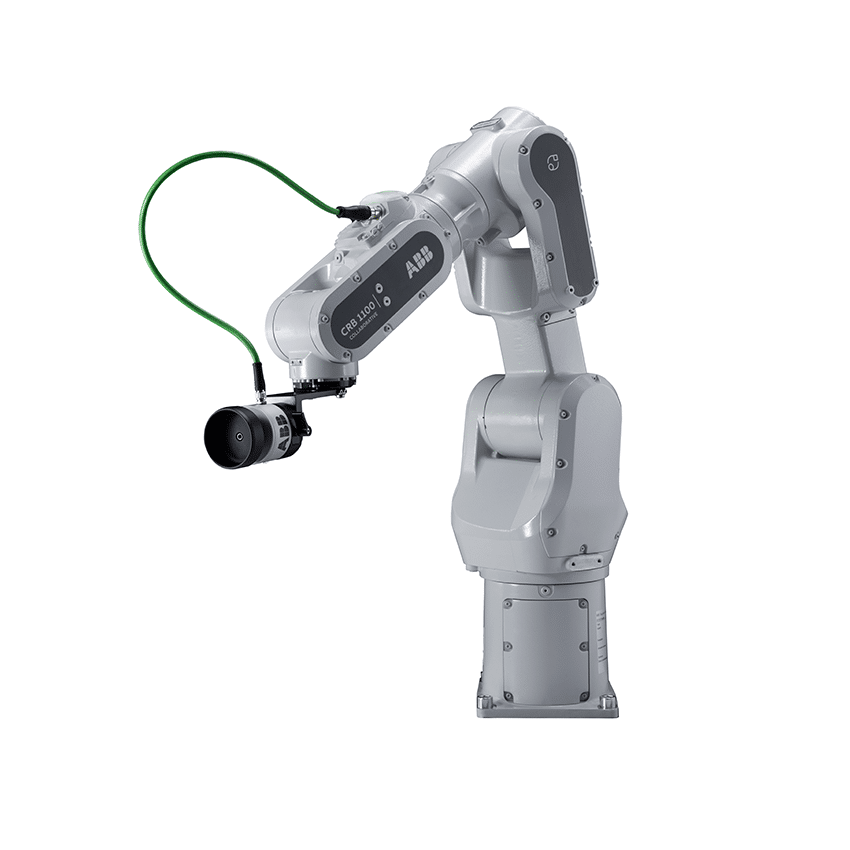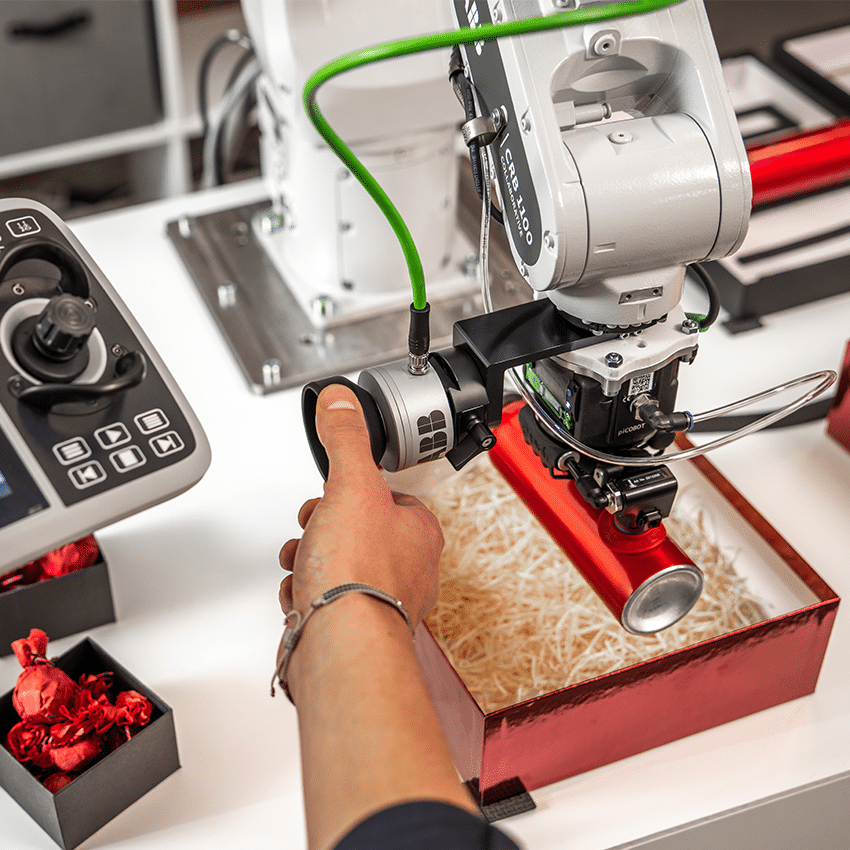 A lightning-fast cobot that combines industry-grade performance and innovative safety.
ABB
SWIFTI gets the job done faster and more accurately than you can imagine.
.
SWIFTI bridges the gap between collaborative and standard industrial robots. It enables demonstrably safe collaborative operation, even in applications which require standard industrial robot-like speed and payload.
From 1.000,00 € a month with lease buy or installment.
Learn more
Overview

Compare

In the box

Use case combination

Specifications

Description

Downloads

FAQ

Similar products
Extremely Fast
SWIFTI offers a maximum TCP (Tool Center Point) speed of over 5 m/s
Extremely Safe
The robot's safe working areas and other safety functions can be quickly and easily defined with the user-friendly SafeMove app on the FlexPendant.
Very Versatile
SWIFTI is suitable for tasks such as assembly or polishing where a human must be present to monitor the operation or reposition parts.
Wizard Easy Programming
Simple and intuitive programming method for the IRB 1100 as well as for the cobots Single-arm YuMi, GoFa and SWIFTI
Featured on Unchained TV
Unfortunately, there are no use case videos yet for this product. Click here to watch other videos on Unchained TV.
Compare
Reach
Payload
Repeatability
Weight
Reach
Payload
Repeatability
Weight
In the box
Robot
Teach Panel
Control Box
Use case combination
Cobot

,

ABB
ABB SWIFTI CRB 1100
€31,000.00
- €34,500.00

excl. VAT.
+
Finger Grippers

,

Robotiq
Robotiq 2F-85
+
Camera

,

Framos
FRAMOS Industrial Depth Camera D435e Starter Kit
Pick&Place
Thanks to its impressive linear speed, ABB SWIFTI cobot is ideal for pick&place tasks which require both high speed and accuracy.
€37,264.00
excl. VAT.
Cobot

,

ABB
ABB SWIFTI CRB 1100
€31,000.00
- €34,500.00

excl. VAT.
Assembly
Its speed and accuracy make SWIFTI perfect for small parts assembly.
€31,000.00
excl. VAT.
Cobot

,

ABB
ABB SWIFTI CRB 1100
€31,000.00
- €34,500.00

excl. VAT.
+
Sanders

,

OnRobot
OnRobot Sander
€3,131.00
- €7,411.00

excl. VAT.
+
Force Torque Sensors

,

OnRobot
OnRobot HEX-Kraft-/Drehmoment-sensor
Grinding and Polishing
Polish, sand and grind faster and easier than ever before. Combine SWIFTI with the OnRobot Sander with Force Torque Sensor for an easy-to-use robotic sanding solution!
€38,258.00
excl. VAT.
Arm
Reach

580

mm

Payload

4

kg

Weight

21

kg
Performance
Max. linear TCP speed

5.05

m/s

Repeatability

0.01

mm

Min. Operating Temperature

5

°C

Max. Operating temperature

45

°C

I/O Ports

Bis zu 12 Signale (C1 + C2) am Oberarm

I/O Power Supply

24V
Joint Movement (Range: ° / Max Speed : ° /s)
J1
-230 till 230

±

460
J2
-115 till 113

±

360
J3
-205 till 55

±

280
J4
-230 till 230

±

560
J5
-125 till 120

±

420
J6
-400 till 400

±

740
J7
-
-
Other Features
IP classification

IP40

Mounting Direction

All directions

Interfaces

ISO 9409-1131.534 M5
Control Box
Dimension

509x513x193

Weight

28

kg

Communication

Manipulator-Signalanschluss (FMB-Anschluss), I/O-Anschluss, Ethernet, DeviceNet, Feldbus-Adapter (Anybus) Gateway für angeschlossene Dienste zur ABB Ability™ Cloud, WAN-Anschluss (Fabriknetzwerk), LAN-Anschluss (Feldbus)

Supply voltage

220/230 VAC

IP classification

IP20
Combining ABB's SafeMove comprehensive safety functionality with a safety laser scanner,* SWIFTI can be installed without physical fencing and still collaborate safely with people. If a worker is detected within its working area, SWIFTI will automatically slow down or halt to allow them to approach safely. An interaction light also provides a visual indication of SWIFTI's status. It signals human co-workers when people are inside SWIFTI's working zone.
.
Offering both lead-through programming – via a clip-on lead-through device, Wizard easy programming software, and the graphical SafeMove configurator App on the FlexPendant, SWIFTI can can be configured and programmed easily and quickly. So whether you have experience with programming or not, you're ready to work with SWIFTI.
SWIFTI is very fast (hence the name!). This robot offers a maximum Tool Center Point (TCP) speed of over 5 m/s, five times faster than other 4 kg cobots and comparable with industrial robots. At 0.01 mm, SWIFTI also provides up to 10 times higher position repeatability than other collaborative robots.
Safety

Monitored by SafeMove and a safety laser scanner
.
Safe stop before contact with a human
.
Interaction status light
Safety certified Category 3, PL d

Productivity

With a TCP speed of over 5m/s**, it is five times faster than other cobots in its class
Up to 10x higher position repeatability 0.01mm than most cobots in its class
Four integrated air supplies for vacuum grippers

Perfect for the following applications

Assembly, machine tending, kitting, polishing, bolting, material handling


More information
A variant model, the ABB SWIFTI CRB 1100 4kg/0.475m, with slightly reduced reach is also available..
Model: ABB SWIFTI CRB 1100 4/0.475

Linear speed: 4.32 m/s

Reach: 475 mm
The specifications listed on this page are for the 4/0.58. All information for both models is available in the datasheet.

Did not find what you're looking for?
To place an order, send us an inquiry through the button at the top of the page or contact us through the chat.
Talk to an
Automation expert
Have questions about this product, pricing, or your automation projects? Fill out the form and an automation expert from our team will be in touch within 24 hours.