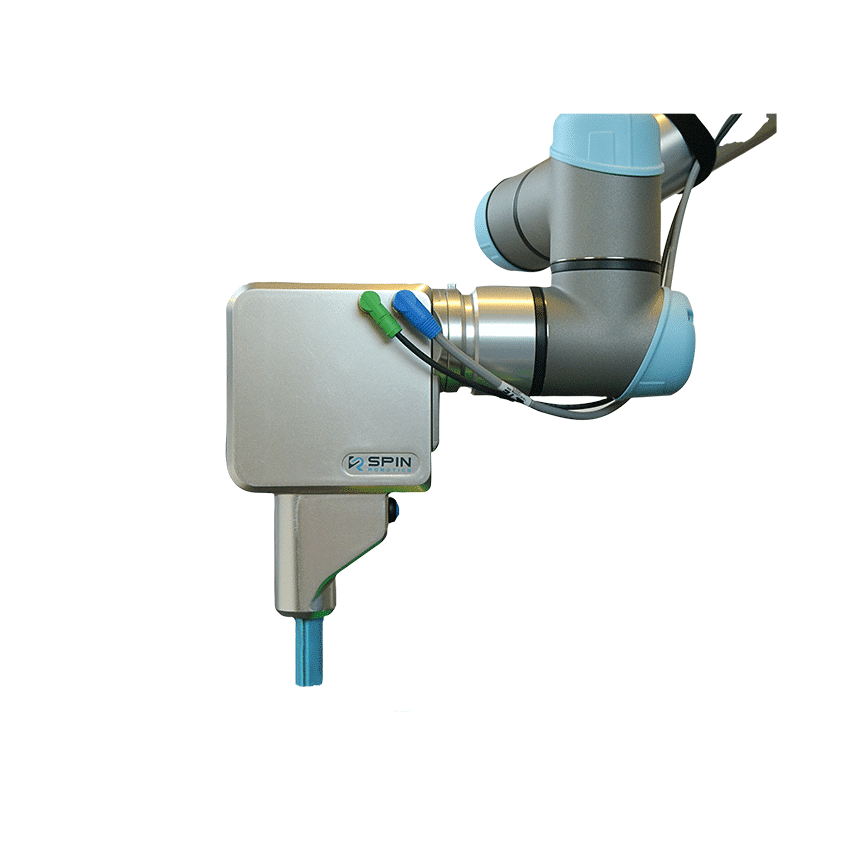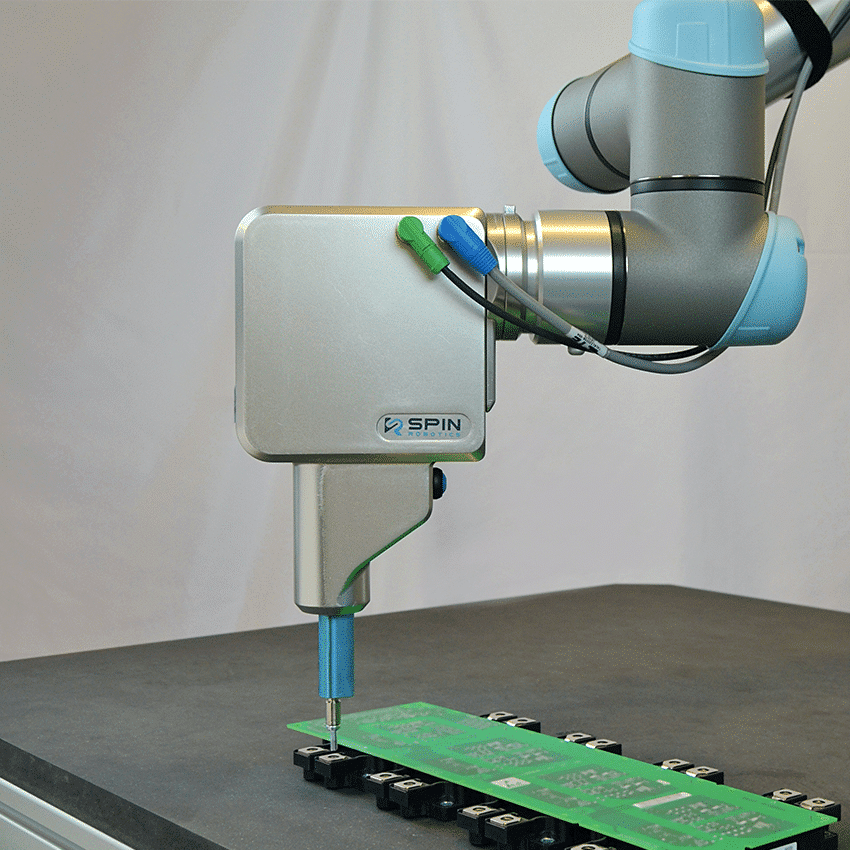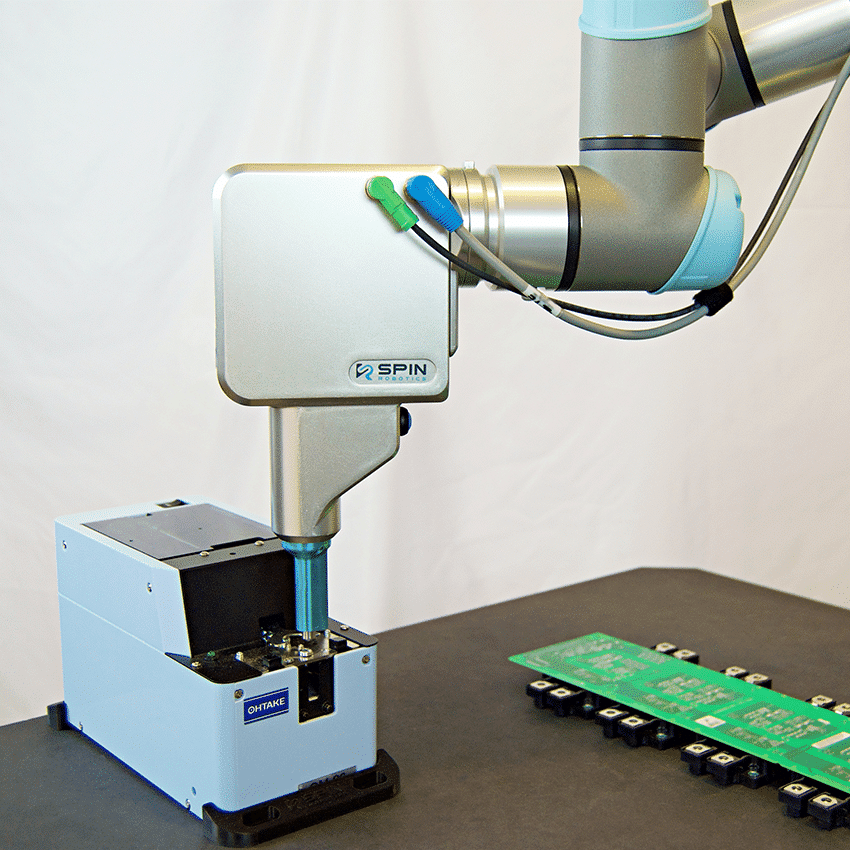 The
Spin Robotics
SD35 – All-in-one screwdriving solution. Inserts 4 screws in less than a minute, even in narrow and hard-to-reach spaces.
The SR35 is a brushless screwdriver system made for use with collaborative robots for safe, easy-to-use, and consistent screw assembly operation for screws requiring up to 3.5 Nm of tightening torque. The SR35 has several build-in features which enhances robot integration and supports collaborative work environments.
From 1.000,00 € a month with lease buy or installment.
Learn more
Overview

Specifications

Description

Downloads

FAQ

Similar products
Versatile use
The automatic bit changer together with the tool allows you to work on multiple projects involving different screw types and sizes. Automate and save your time and money.
No qualifications needed
No experience with robots so far? Our tool is easy to set up, run and operate, all in 10 to 15 minutes.
Safe alongside employees
SD35 features a safety shield and a built-in safety sensor (level-d performance) allowing it to safely work next to employees. Are you ready for a new collaborative colleague? Just plug it in!
Industry 4.0 enabled
Visualize and check your production quality on a screen. No more missing screw and returned batches!
Featured on Unchained TV
Screws
Mechnical Engineering
Automated bolting applications with the Spin Robotics SD35
Screws
Mechnical Engineering
Automated screwdriving at Danfoss with the Spin Robotics SD35 and a UR Cobot
Overview
Weight

2.3

kg

Dimension

325 x 54 x 159 mm
Performance
Schraubengrößen Min

2

mm

Schraubengrößen Max

5

mm

Drehmoment Min

0.8

Drehmoment Max

3.5

Drehzahl Min

0

Drehzahl Max

750
Interfaces
Supply voltage

48

V

Nominal current

8

A

Communication

URCap Ethernet 24VIO
Properties
IP classification

IP53

ESD sicher

Yes
The Spin Robotics SD35 is made for pick & place screwdriving applications. This means that screws are picked up from an automatic screw feeder positioned within the reach of the robot.
SAFETY SHIELD
The safety shield covers the bit and screw when on the move, thereby protecting humans from rotating and sharp elements. If the tool hits an object, a safety sensor halts the robot. The built-in safety sensor is a performance level-d. making safe implementation easier.
EASY ROUTE PROGRAMMING 
The supplied teach pen helps to pinpoint the exact position of the holes. When the free-drive button is pressed the tool can be moved to the next position. Use the configurable button to save waypoints.
AUTOMATIC BIT CHANGE (OPTIONAL) 
If multiple different screws are used at the same workstation, an optional bit changer can be acquired and used in combination with additional screw feeders.
SOCKETED SCREWS AND HARD TO REACH POSITIONS  
Socketed screws can be inserted with up to 15 mm in depth measured from surface to top of the screw.


Variants







Variant 1 - SD35 collaborative screwdriver. Includes: SD35 collaborative screwdriver, SpinBridge, SpinMount, Spin interface software


Variant 2 - Complete Spin Package. Includes: SD35 collaborative screwdriver, SpinBridge, SpinMount, Spin Interface software, Automatic bit changing station, OM-26R screw feeder







Did not find what you're looking for?
To place an order, send us an inquiry through the button at the top of the page or contact us through the chat.
Talk to an
Automation expert
Have questions about this product, pricing, or your automation projects? Fill out the form and an automation expert from our team will be in touch within 24 hours.