All Products
Robot
End of Arm
Vision
Turnkey & Packages
Services
Manufacturer
Industries
Resources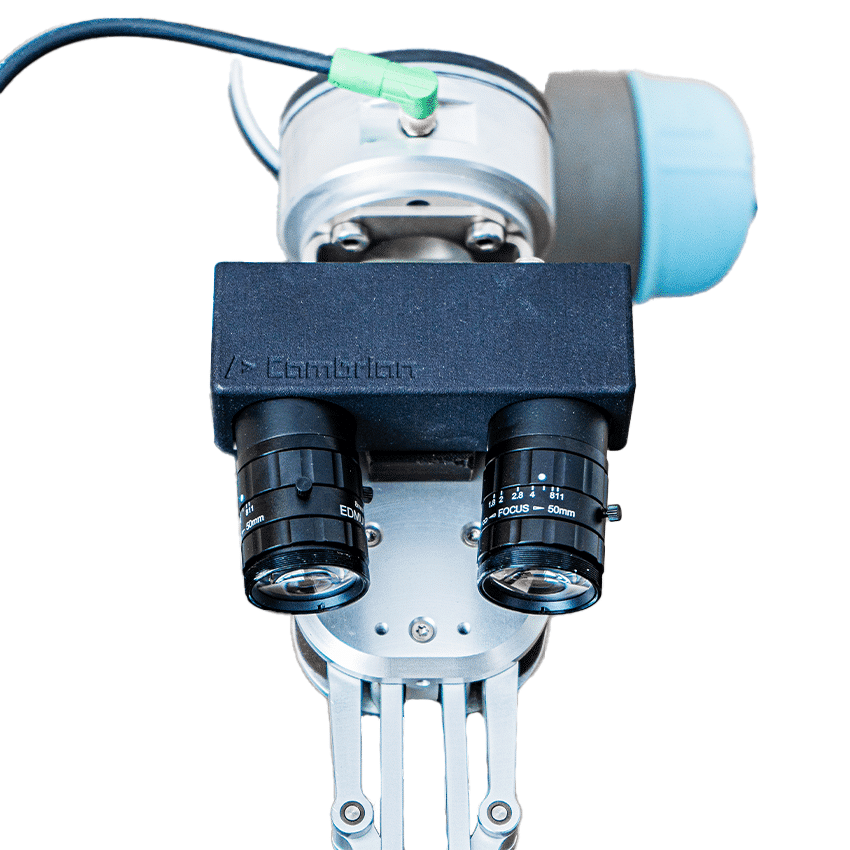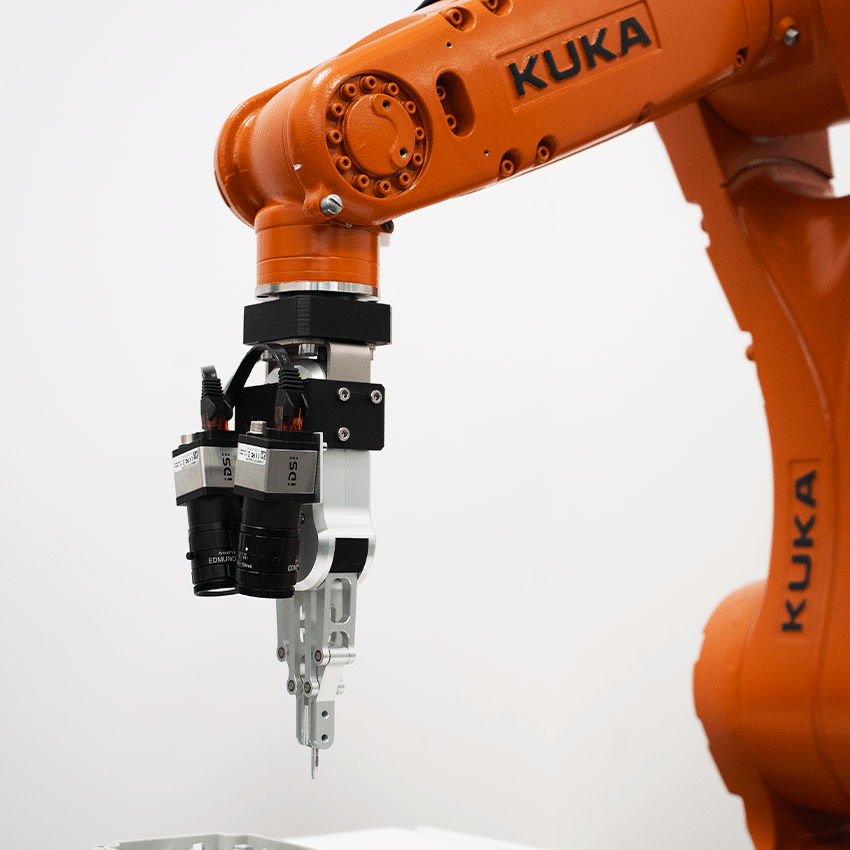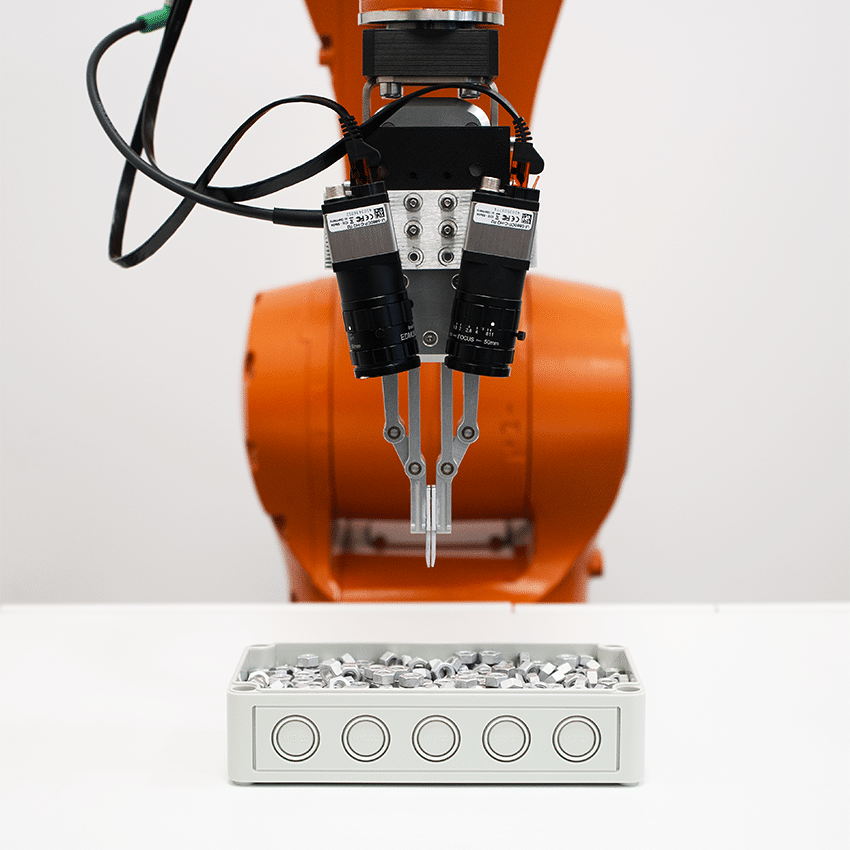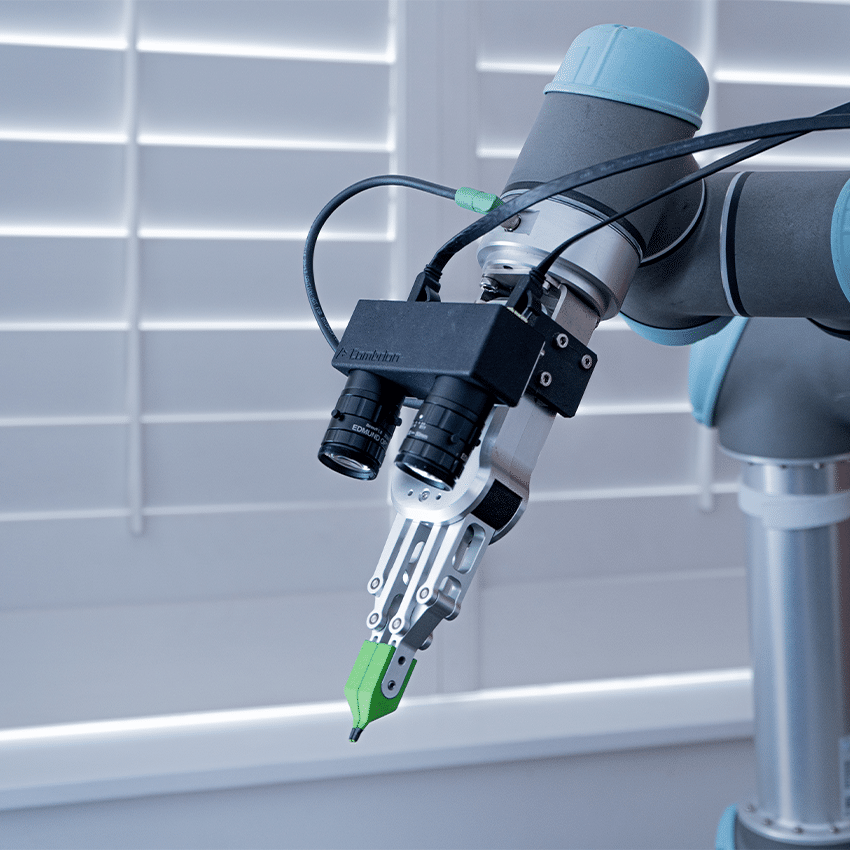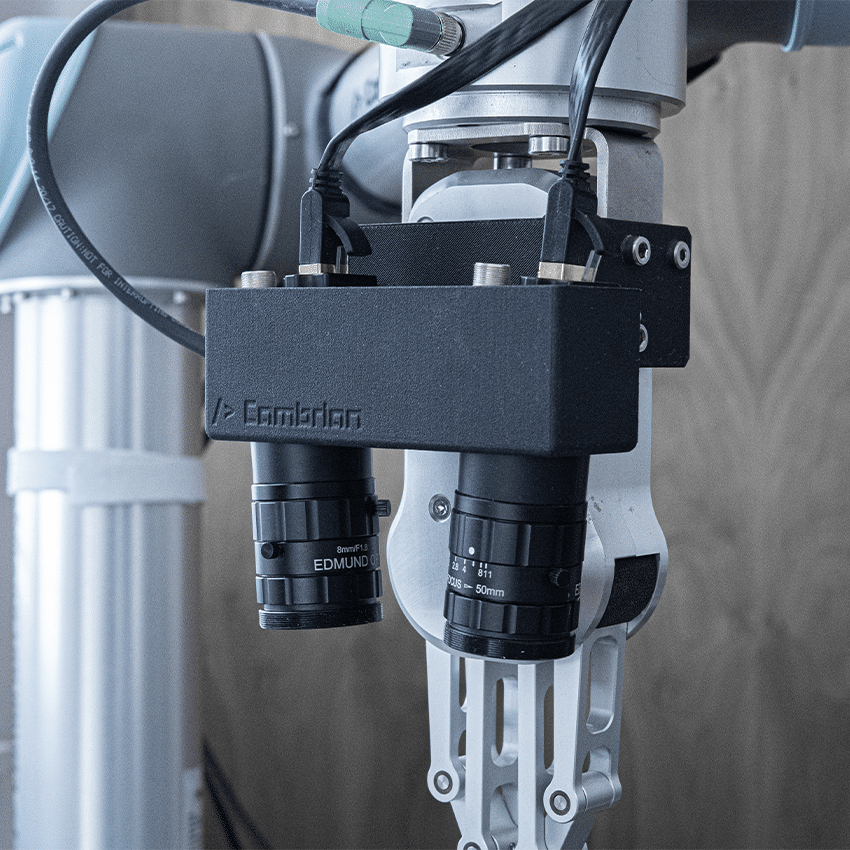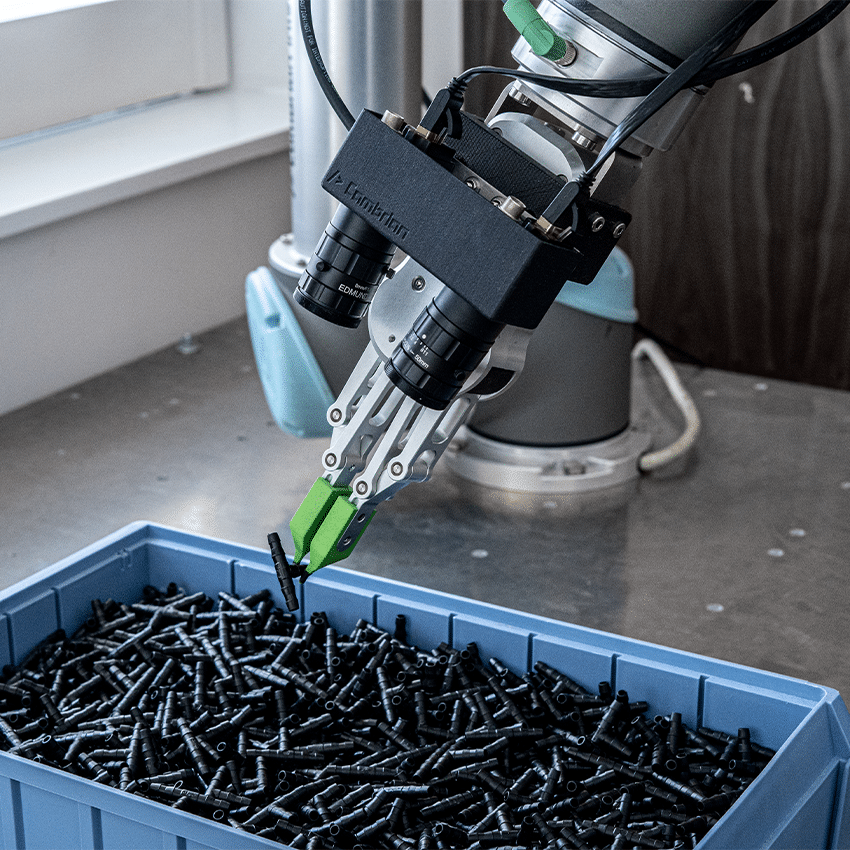 Cambrian Robotics Machine Vision System
The Cambrian Robotics Machine Vision System is an add-on to your collaborative and industrial robots. The artificial intelligence-based solution gives the robot arm human-level skills for various manufacturing tasks such as pick and place, bin picking, cable insertion, and many more. Compatible with cobots from KUKA, Universal Robots, and ABB.
From 1.000,00 € a month with lease buy or installment.
Learn more
Overview

Specifications

Description

Downloads

FAQ

Similar products
Automate easier
Instruct your Cambrian-enabled robot with high-level commands like pick and place / insert / locate. Just like you would another human. There is no need to program the robot in cartesian space or drag the robot around.
Automate faster
The AI can react in dynamic environments so you don't need to manufacture custom fixtures or jigs to hold everything in a fixed place. If you need to change something in the robot cell you don't need to reprogram as the AI can still locate your parts and adapt to changes.
Automate more
Robots with AI can do a wider range of tasks that were previously infeasible to automate. As you can program the Cambrian AI for a new task much quicker and easier than using status-quo methods you can automate rapidly changing production too.
Return on investment
Installing AI-empowered robots into your production will bring competitive advantages and reduce your costs significantly.
Featured on Unchained TV
Unfortunately, there are no use case videos yet for this product. Click here to watch other videos on Unchained TV.
Cambrian Robotics Machine Vision System is an advanced solution for the automation of bin picking, assembly, and other commonly automated tasks. Its advanced and proprietary AI allows the solution to quickly identify parts and pieces in low and variable light conditions.
Taking inspiration from the human eye, the solution includes two cameras to allow for the more accurate identification of parts and pieces. Thanks to its advanced software, Cambrian excels not only in low and variable light conditions but can also find and pick reflective and darker workpieces.
Ideal Use Cases


Binpicking - Use Cambrian's "Pick and Place" skill for all your binpicking tasks!


Tool Use - With Cambrian's "locate" skill, you can find and identify features in three dimensions. Cambrian is ideal for locating holes, nuts, bolts, openings, or other components and features for further tool use.


Kitting - Cambrian's "Pick and Place" skill allows you to prepare pre-assembly kits. For example, bin pick parts and place them on a kit tray for further use down the production line.


Cable Insertions - Use Cambrian's "Pick and Place" and "Insertion" skills to pick up cables and either plug them in or insert them through holes.


Assembly - Use Cambrian skills to quickly set your robot up to perform a wide range of assembly tasks.


How it works


Upload the relevant CAD models


The Cambrian AI learns to pick and locate your parts in a simulated environment.


After training - the Cambrian AI is ready to pick up parts. To see around it relies on RGB cameras on the robot arm.


Instruct the Cambrian AI using high-level commands like pick, place, insert, locate etc., just like you would instruct another human.


Further Specs


Available skills: pick, place, insert, locate


Prediction time: 0.2s


Minimum part size: 1mm x 1mm x 1mm


Compatible brands: KUKA, Universal Robots, ABB


Integrations: PLC, ROS


Typical bin pick cycle time: circa 5s (including robot and gripper movement)


API calls can be programmed in KRL, Java, RAPID


Pricing Note:


Price includes one year license


To place an order, send us an inquiry through the button at the top of the page or contact us through the chat.
Talk to an
Automation expert
Have questions about this product, pricing, or your automation projects? Fill out the form and an automation expert from our team will be in touch within 24 hours.