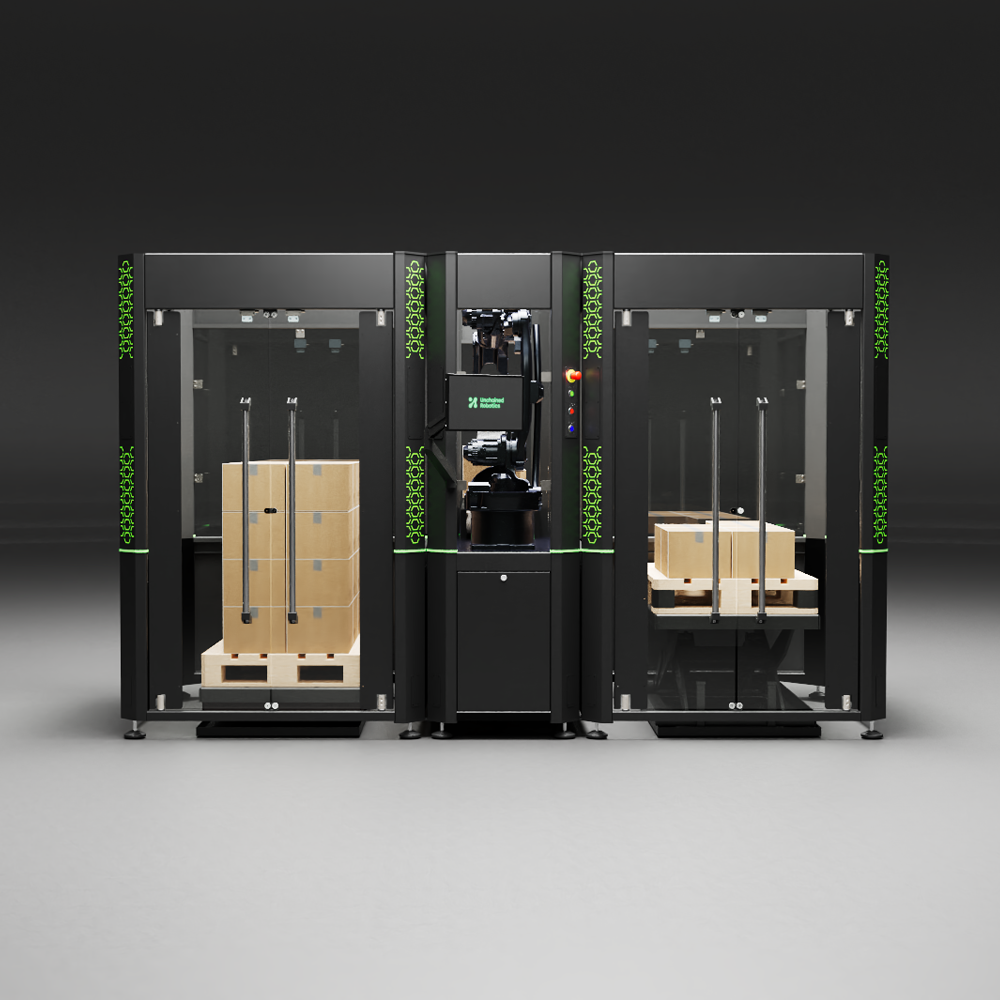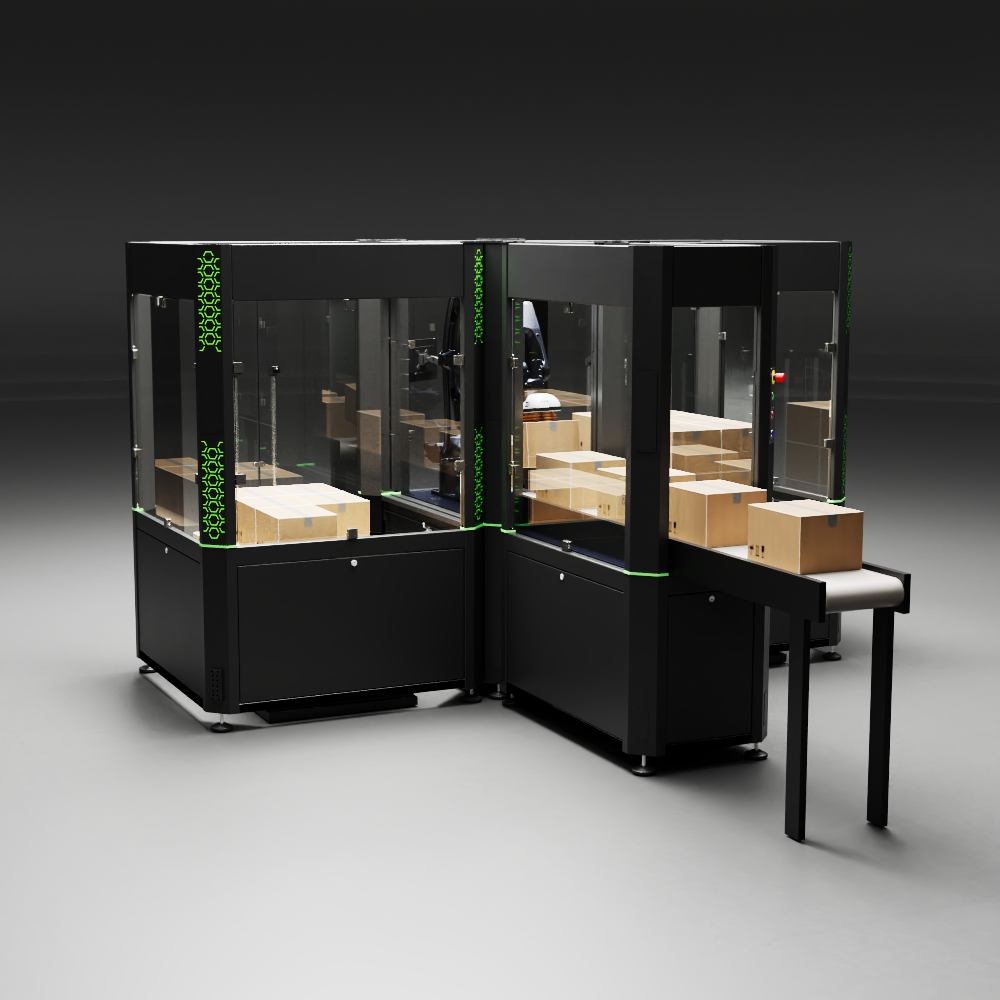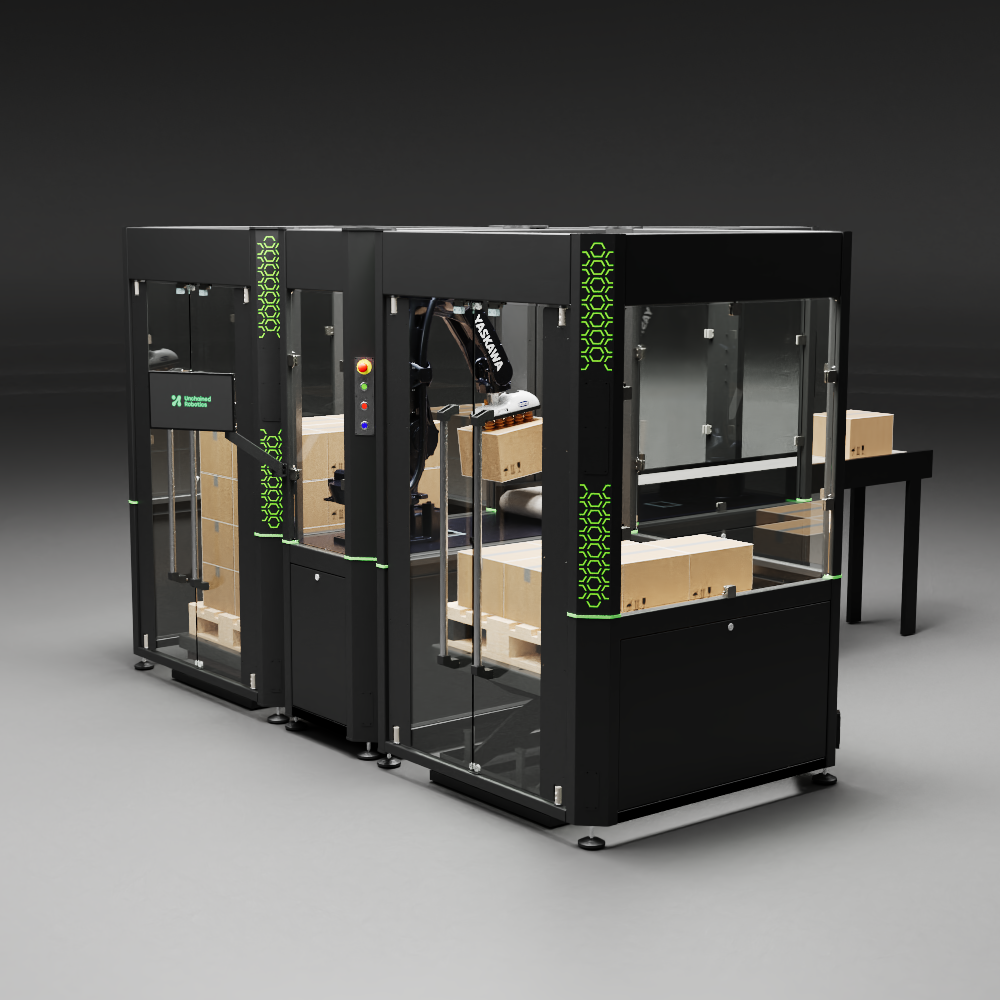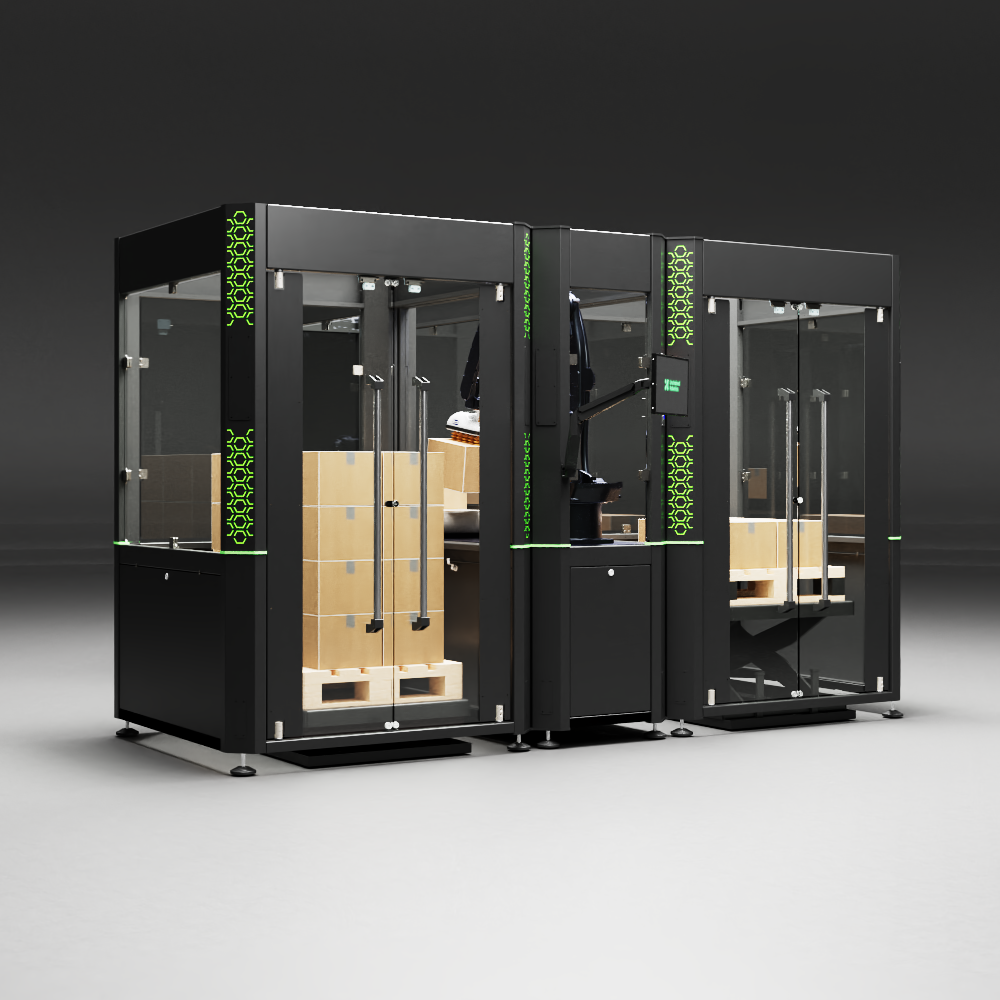 Unchained Robotics MalocherBot Palletizing
The Unchained Robotics MalocherBot Palletizing system is a ready-to-use turnkey solution for palletizing. The robot, controller, and programming all work together flawlessly out of the box and, after an easy setup process, you can immediately start palletizing. The LUNA graphical user interface allows the operator to easily input various package sizes, palletizing patterns, and configurations. The MalocherBot Palletizing system can stack at a lightening fast 12 packages per minute and handle packages weighing up to 20kg. Like all MalocherBot systems, MalocherBot Palletizing is easily reconfigurable, redeployable, and can be prepared for new production runs and package weights/sizes by any operator.
From 1.000,00 € a month with lease buy or installment.
Learn more
Overview

Specifications

Description

Downloads

FAQ

Similar products
A modular, adaptable solution
MalocherBot Palletizing is a modular system that allows for quick and easy setup, as well as quick and easy reconfiguration as production requirements change.
Phenomenally fast stacks
The MalocherBot Palletizing system is fast - it can easily handle stacking operations at up to 12 packages per minute. With multigrip it can handle up to three times as many packages, stacking up to 36 packages per minute.
Featured on Unchained TV
Unfortunately, there are no use case videos yet for this product. Click here to watch other videos on Unchained TV.
Requirements

MalocherBot Base Unit (included in the price)

Dimensions
140 x 140 x 220 cm (Palletizer-module)
140 x 70 x 220 cm (Base Unit)
Weight

620kg (in total)

Unit Construction

Steel

Forkliftable

Yes
Palletizing specifications
Robot Brand

YASKAWA (others available)

Robot Model
GP12, GP20

Reach

1,800

Payload

20kg

Max. payload - nach oben zu base

20kg

Max. stack height

1,8m

Max. Zyklen/min

12

Gripping Method

Vacuum

Multizone gripping

Yes

optional mit Kamera oder ohne

Yes

Compatible Materials

All types of cardboard boxes as well as flat, non-porous material

Tool Brand

OnRobot (others available)
The Unchained Robotics MalocherBot Palletizing is our palletizing powerhouse. Designed from the ground up to offer a modular, easy-to-house, and reliable palletizing experience, this advanced turnkey solution offers a powerful answer to your palletizing needs. Build around the Unchained Robotics MalocherBot, MalocherBot Palletizing is a rapid deployment, intuitive-to-use palletizing system built for today's production environment. The different modules of the system can be easily mixed and matched and the whole unit is shipped ready to use. Installation is simply attaching the 2-3 modules and plugging them in, then your ready to start inputting your task parameters.


Key Specificaitons
The MalocherBot Palletizing system offers best-in-class performance. In concrete terms that means:
Max. Box Weight: 20kg
Max. Stack Speed: 12 packages per minute
Max. Stack Height: 1.8m


How does it work?
The Unchained Robotics MalocherBot Palletizing system is fully modular and based around the core of all MalocherBot systems: the Base Unit. Then one or two Palletizer modules, depending on your needs, are plugged directly into the Base Unit. The Base Unit recognizes the palletizing modules and automatically configures and integrates them. And that's it. The entire process runs automatically. All the user has to do is place the units in the correct position (easily down with a forklift) and connect the units. All other initial setup will be handled automatically through the software wizard. Once this is done, the next step is simply to input the process parameters. This include things like the size and weight of the packages to be stacked, the palletization pattern, etc. Intial setup time from delivery to working: well under 24 hours.


What is in the MalocherBot Base Unit?
The MalocherBot Base Unit is the control center of any MalocherBot turnkey solution. It contains the robot, the robot control unit, the main system computer, and the advanced LUNA Software that ties everything together. Any MalocherBot turnkey solution will have a Base Unit at its center.
Scope of Delivery
The MalocherBot Palletizing includes the following components:
1x Base Unit (with Robot Controller, System Computer, LUNA Software)
1x Palletizer module
Power Cable


What other modules are available?
A large variety of modules are available for the MalocherBot system - indeed on its own, the Base Unit is capable of standard robot tasks like Pick&Place, Assembly, etc. For many, especially more specialized tasks, it requires an additional module. The other modules currently available are:
MalocherBot Sanding - This module allows you to build a grinding, polishing, or sanding unit.
Did not find what you're looking for?
To place an order, send us an inquiry through the button at the top of the page or contact us through the chat.
Talk to an
Automation expert
Have questions about this product, pricing, or your automation projects? Fill out the form and an automation expert from our team will be in touch within 24 hours.