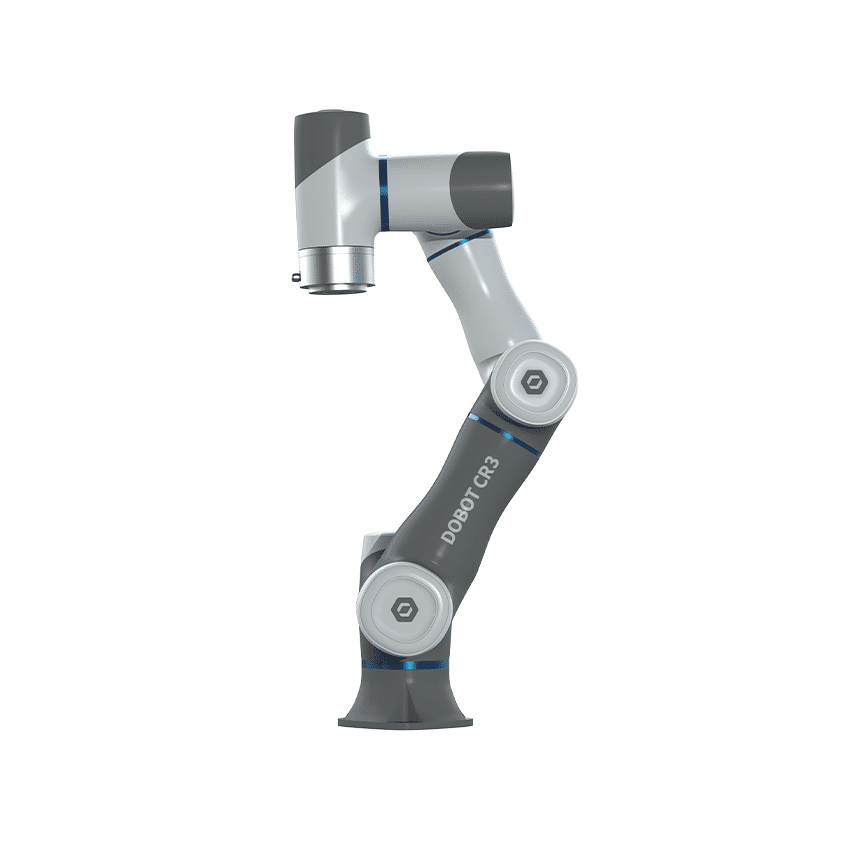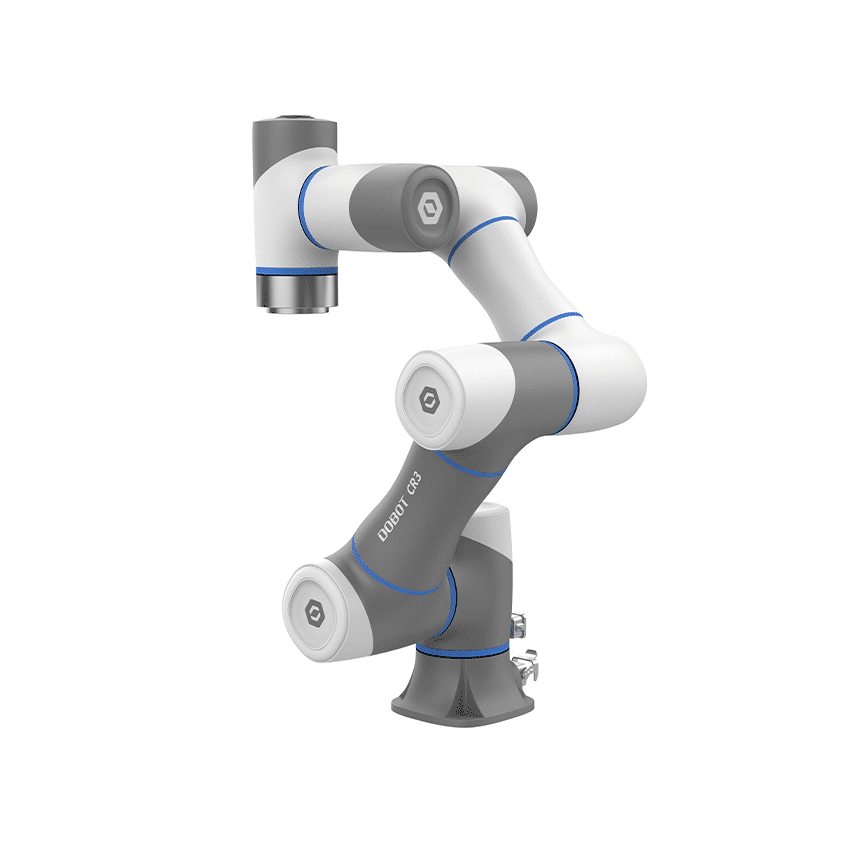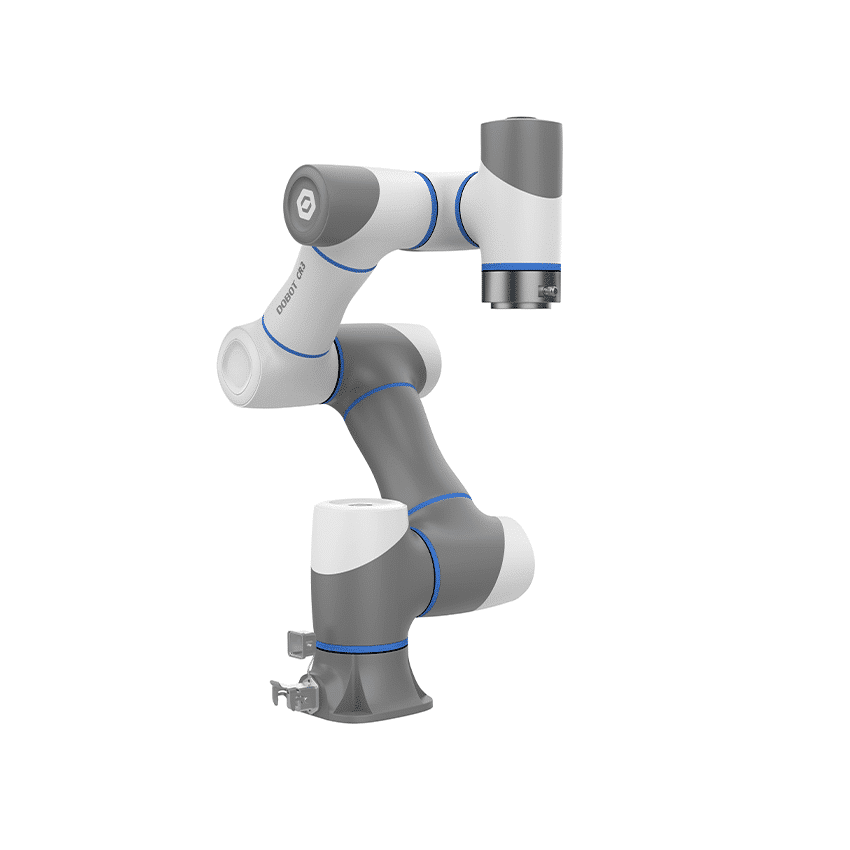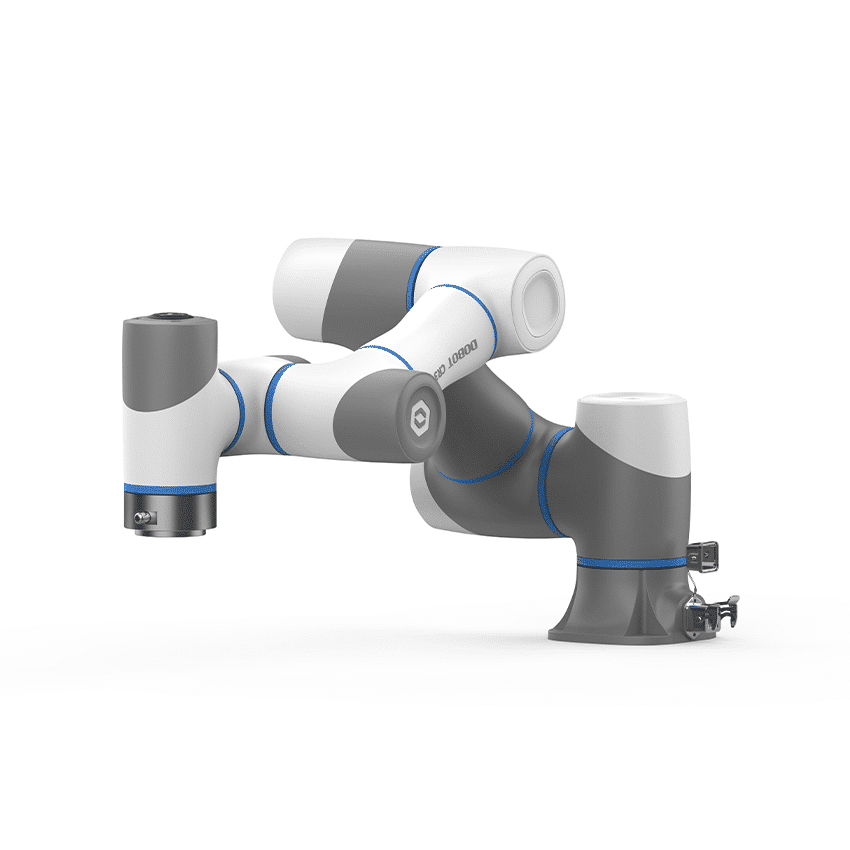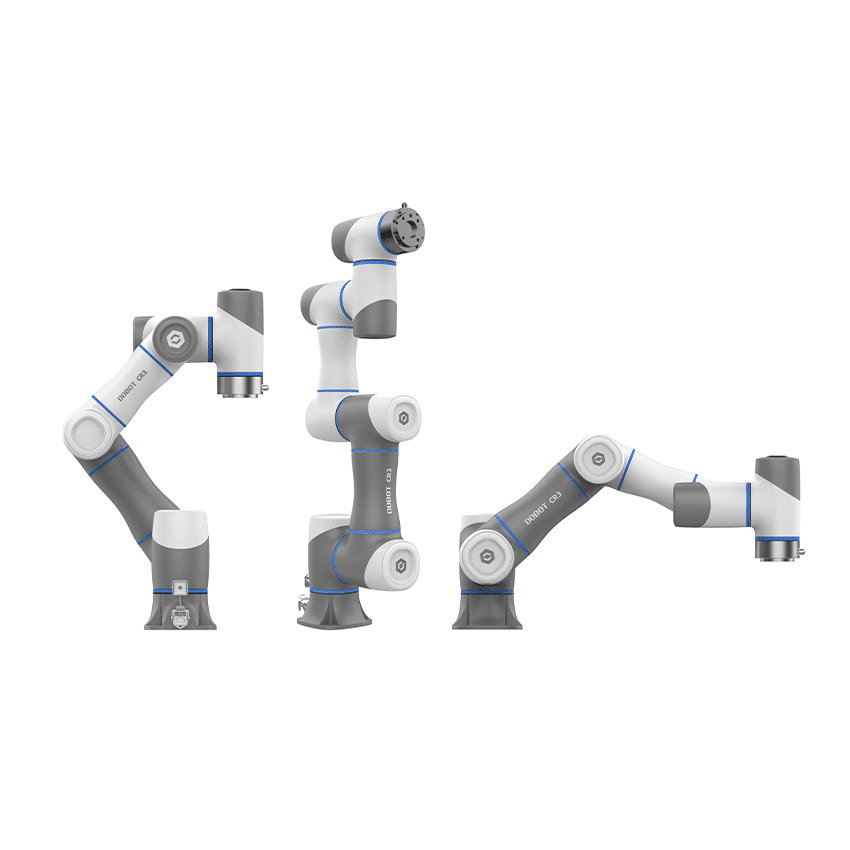 The DOBOT CR3 cobot is an ideal entry point into collaborative robotics. With a reach of 620mm, a payload of 3kg, and an affordable price, the CR3 is perfect for small parts assembly, research projects, educational purposes, and more. Like all CR series cobots, this cobot comes with a software package designed with ease of use in mind, allowing many processes to be implemented by a user without programming skills or knowledge.
From 1.000,00 € a month with lease buy or installment.
Learn more
Overview

Compare

In the box

Use case combination

Specifications

Description

Downloads

FAQ

Similar products
Easy to install
The DOBOT CR3 is easy to set up and install. This innovative collaborative robot can be up and running in a matter of minutes rather than days.
Easy to use
The CR3 is designed from the ground up with ease of use in mind. Installation is easy, but ease of use does not stop there. The CR3 cobot is user-friendly and accessible to those without a lot of robotics experience.
Featured on Unchained TV
Pick & Place
Chemical
DOBOT CR3 handles pipetting and mixing processes
Compare
Reach
Payload
Repeatability
Weight
Reach
Payload
Repeatability
Weight
Use case combination
Cobot

,

DOBOT
DOBOT CR3
€15,500.00
- €19,000.00

excl. VAT.
+
Finger Grippers

,

OnRobot
OnRobot 2FG7
€3,678.00
- €5,255.00

excl. VAT.
+
Cobot-Base

,

Alexander Bürkle
Alexander Bürkle SmartCube 1100
Forschung
When it comes to practical applications, the CR3 shines in small parts manufacturing.
€23,678.00
excl. VAT.
Cobot

,

DOBOT
DOBOT CR3
€15,500.00
- €19,000.00

excl. VAT.
+
Finger Grippers

,

DH Robotics
DH Robotics AG-95
+
Cobot-Base

,

EasyRobotics
EasyRobotics EasyWork
Bildung
Research projects and testing are also an ideal use-case for the CR3 due to the wide variety of compatible parts.
€23,180.00
excl. VAT.
Cobot

,

DOBOT
DOBOT CR3
€15,500.00
- €19,000.00

excl. VAT.
+
Finger Grippers

,

Robotiq
Robotiq 2F-85
+
Camera

,

Framos
FRAMOS D455e Starter Kit
€1,649.00
- €1,749.00

excl. VAT.
Prototyping
Combined with an easy-to-use gripper and camera, the CR3 offers an excellent educational platform for future roboticists.
€21,444.00
excl. VAT.
Arm
Reach

620

mm

Payload

3

kg

Weight

16.5

kg
Performance
Max. linear TCP speed

2

m/s

Repeatability

0.02

mm

Min. Operating Temperature

0

°C

Max. Operating temperature

44

°C

I/O Ports

2 Digitale Eingänge / 2 Digitale Ausgänge / 2 Analoge Eingänge / 0 Analoge Ausgänge
Joint Movement (Range: ° / Max Speed : ° /s)
J1
-360 till 360

±

180
J2
-360 till 360

±

180
J3
-155 till 155

±

180
J4
-360 till 360

±

180
J5
-360 till 360

±

180
J6
-360 till 360

±

180
J7
-
-
Other Features
IP classification

IP54

Noise Level

65

dB
Control Box
Dimension

360x160x402.4 mm

Weight

12

kg

I/O ports

16 Digitale Eingänge / 16 Digitale Ausgänge / 2 Analoge Eingänge / 2 Analoge Ausgänge / 1 Incremental Encoder ABZ

Communication

TCP/IP,Modbus TCP,WIFI,EtherCAT(für externe Achsen),Ethernet

Nominal power consumption

120

W

IP classification

IP20
The CR3 belongs to DOBOT's new line of CR series of cobots. With a reach of 620 mm and a payload of 3 kg, the CR3 is the smallest member of the DOBOT CR family. This collaborative robot is designed to provide both an effective automation solution for small-scale problems in industrial environments as well as a robust research and education platform.
The CR3 is designed to keep things simple. From installation to operation, the CR3 minimizes many complications that used to be inherent to automation. With the CR3, you can be up and automating in less than an hour.
Ease of Use 
The CR series emphasizes not only simple installation and setup but also ease of use. In the end it is ease of use that makes collaboration possible. When man and machine cannot interact seamlessly and safely, collaboration is not possible. With this in mind, the CR series was designed to allow users with minimal programming skills to get started with automation. Operators can "teach" the DOBOT CR series a wide variety of processes without writing a line of code. 
Expandability 
While the CR3 is designed to be easy to use and set up, it is also extremely expandable. Robots, especially collaborative robots, need to be adaptable so that they can perform in new environments and handle a variety of processes. Featuring a large array of I/O and communications interfaces, the CR3 is eminently expandable. With a wide ecosystem of compatible grippers, end-of-arm tools, and more, the CR3 and its siblings can be expanded to meet your changing needs. 
Reliability and ROI 
DOBOT's CR series is built to last. At least 32,000 hours to be exact. This is the designed service lifetime of a DOBOT CR cobot. So, even with a heavy workload, the DOBOT CR3 can be expected to work for years to come, maximizing your ROI and minimizing potential headaches and downtime. 
Did not find what you're looking for?
To place an order, send us an inquiry through the button at the top of the page or contact us through the chat.
Talk to an
Automation expert
Have questions about this product, pricing, or your automation projects? Fill out the form and an automation expert from our team will be in touch within 24 hours.