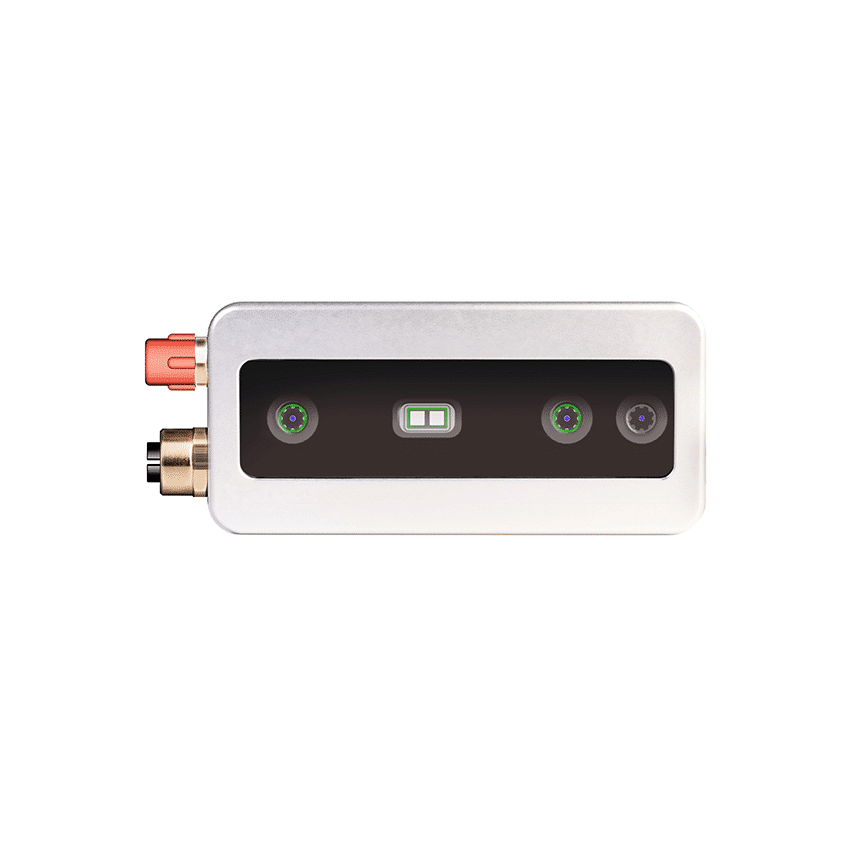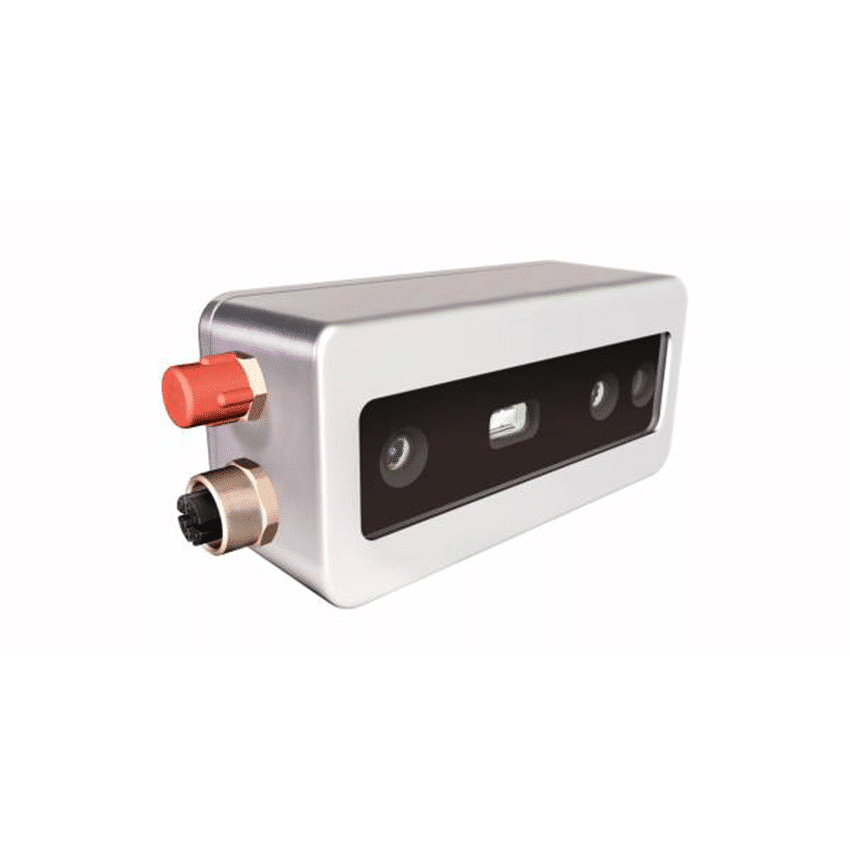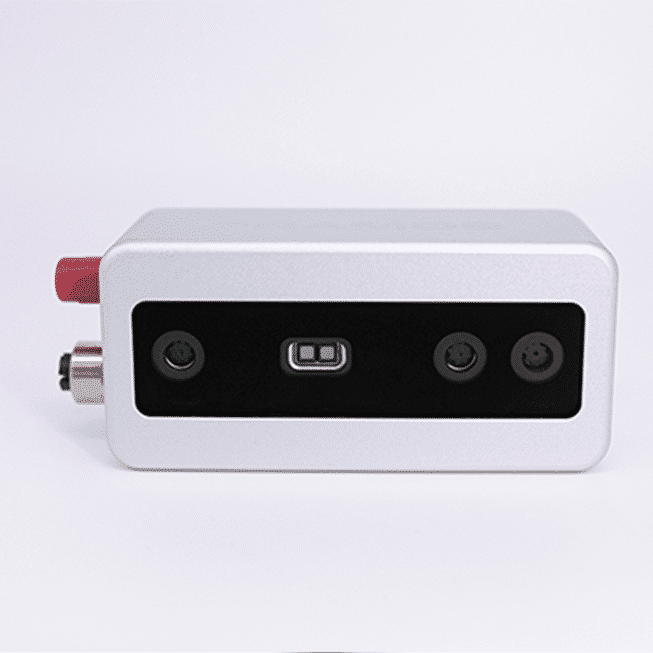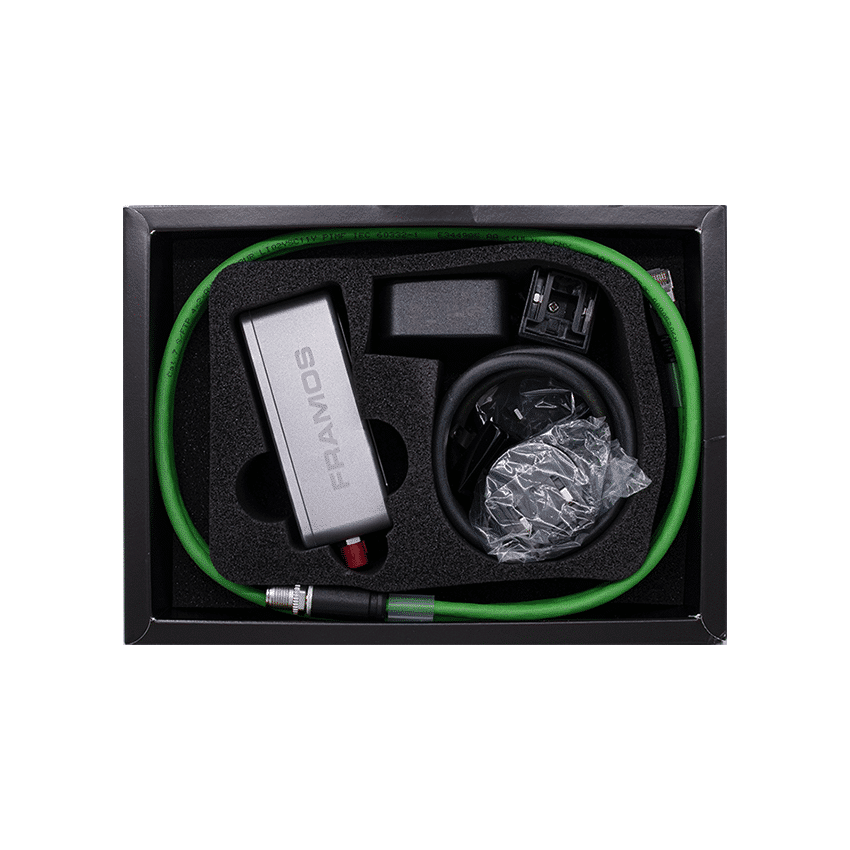 FRAMOS Industrial Depth Camera D415e Starter Kit
Max. Operating Distance
300 - 10,000 mm
The
FRAMOS
D415e Industrial Depth Camera is a rugged, water and dust protected camera based on Intel® RealSense™ technology. With a field of view of 65° x 40° and a maximum cable length of 100m, the FRAMOS D415e is a versatile camera ideal for pick & place tasks.
The D415e starter kit includes the camera itself, an M12 to RJ45 Ethernet cable and an M8 power cable with wall plug.
From 200,00 € a month with lease buy or installment.
Learn more
Overview

Specifications

Description

Downloads

FAQ

Similar products
Intel® RealSense™ SDK
The FRAMOS version of the Intel® RealSense™ SDK 2.0 provides almost all functionalities of the original for the D400e cameras and allows the use of already existing codes/applications written for the USB variant. In addition, the FRAMOS SDK version allows you to run D400e cameras in parallel with USB variants.
Industrial protection class IP66 dust and waterproof
Thanks to the FRAMOS D415e's rugged design, it can perform well even in suboptimal conditions. In particular, the camera can operate in wet and dusty conditions where many other cameras would fail. This more rugged housing allows for increased uptime and a wide range of potential applications. This camera is also available in IP67 on a project basis.
Long cable, lots of freedom
With cable lengths of up to 100 m, the D415e camera offers users a great deal of freedom in positioning, solving a challenge of USB cameras that are limited by short cable lengths. The camera can also be operated via the lockable, industrial-grade M12 Ethernet connector using Power over Ethernet (PoE) with only one cable for data exchange and power supply. Alternatively, a dedicated power supply is possible via the lockable, industrial-grade M8 connector and a GPIO contact is available for external synchronization or triggering of the camera.
Featured on Unchained TV
Unfortunately, there are no use case videos yet for this product. Click here to watch other videos on Unchained TV.
Specifications
Field of view

65

Min. Operating Distance

300

mm

Max. Operating Distance

10,000

mm

Max. FPS

30

Resolution

1280x720
The FRAMOS Industrial Depth Camera D415e is built with Intel® RealSense™ technology. The depth camera offers a field of view of approximately 72° (diagonal) for depth and RGB sensors. Further, the D415e features an industrial M12 Ethernet connection and an M8 power connector. Its waterproof and dustproof housing is optimized for industrial environments. The D415e is ideal for OEMs and integrators who require both 3D and 2D vision in their products and applications.

The 55mm baseline rolling shutter depth sensors provide increased depth accuracy for applications requiring high precision compared to the D435e's 50mm baseline global shutter sensors.

The FRAMOS Industrial Depth Camera D415e works with a modified version of the Cross-Platform SDK for Intel® RealSense™ devices.

Did not find what you're looking for?
To place an order, send us an inquiry through the button at the top of the page or contact us through the chat.
Talk to an
Automation expert
Have questions about this product, pricing, or your automation projects? Fill out the form and an automation expert from our team will be in touch within 24 hours.