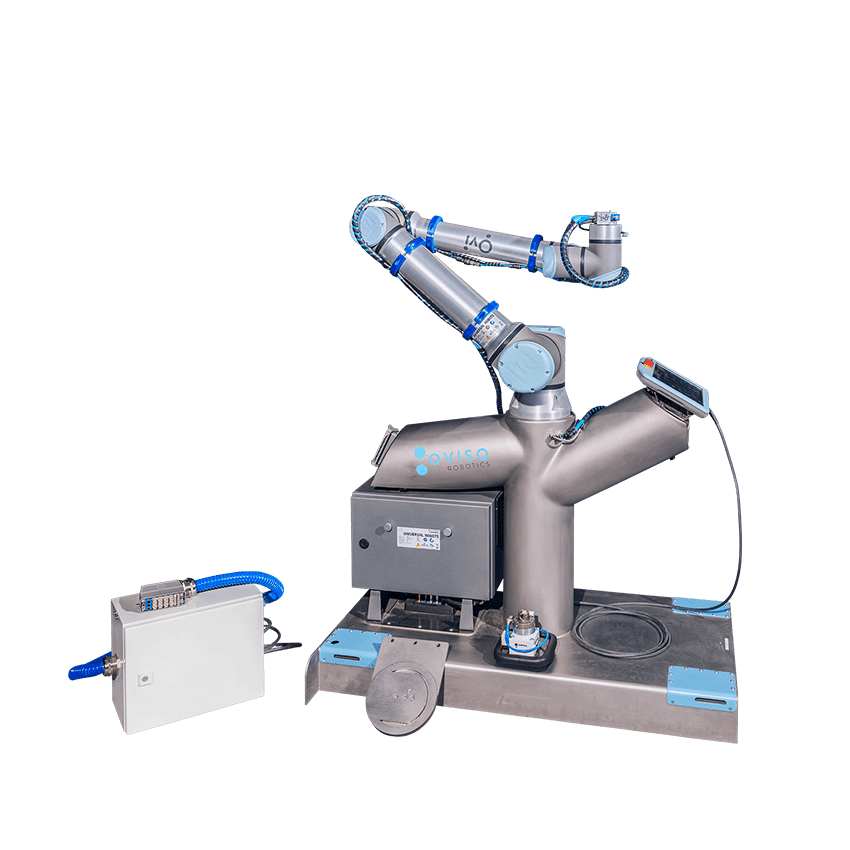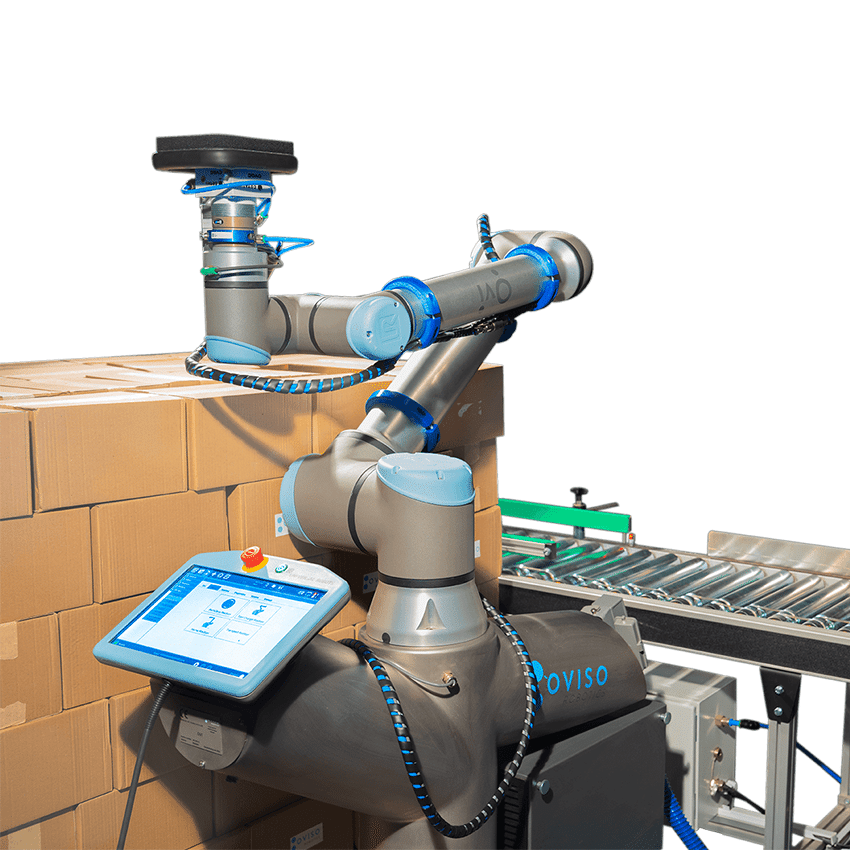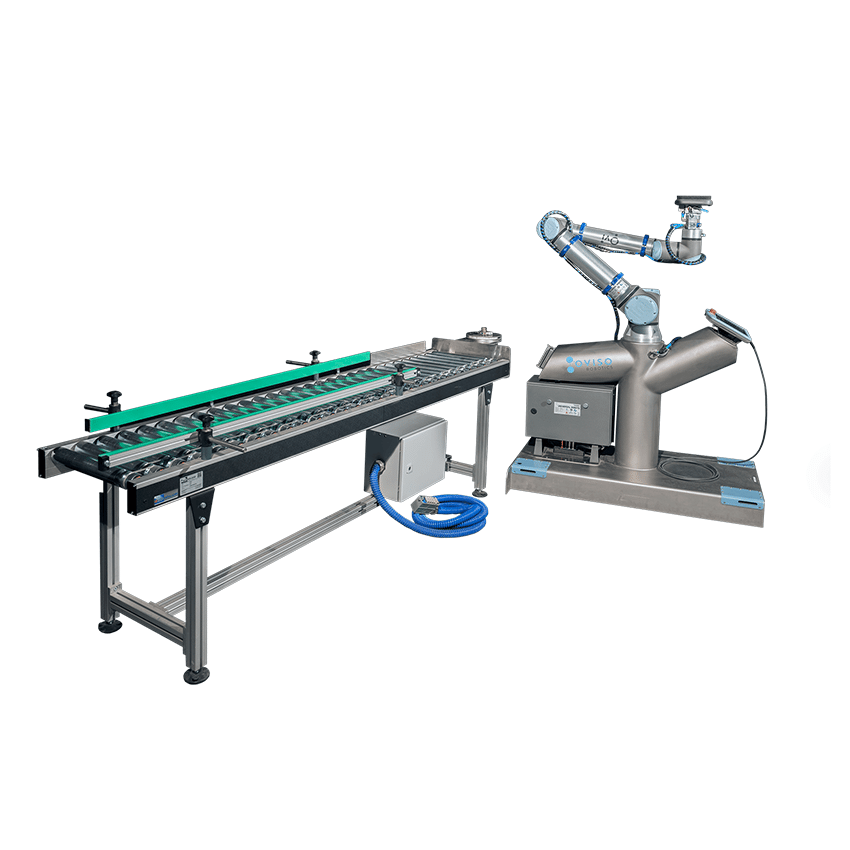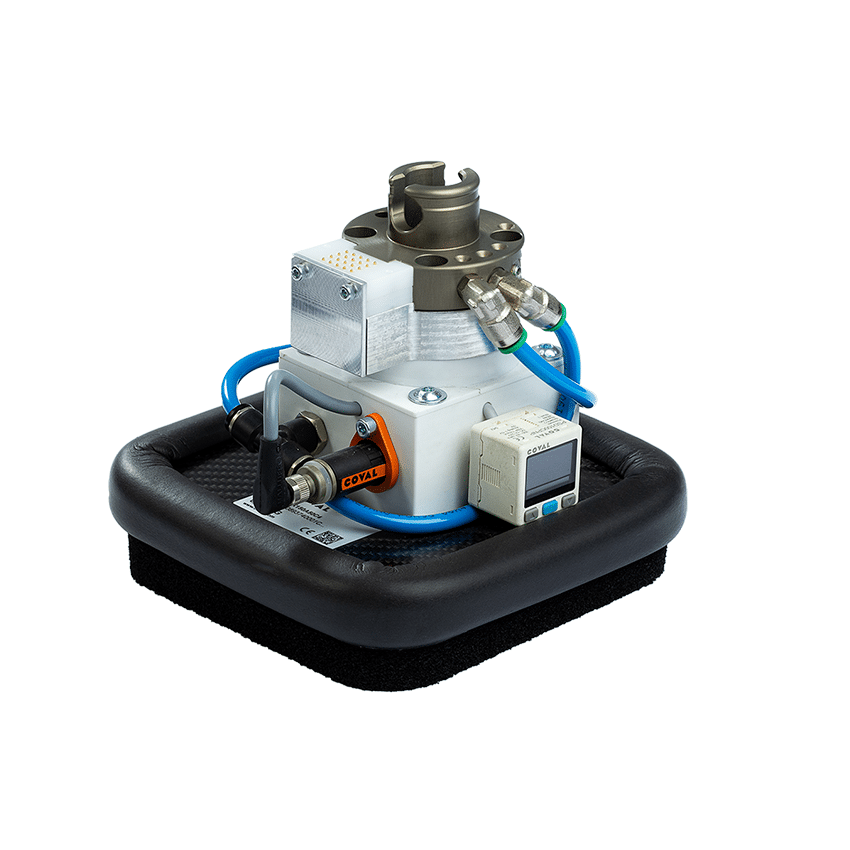 Oviso Robotics OVI Depalettierer
Based on Oviso Robotics' compact, mobile, and user-friendly OVI system, the OVI Depalletizer is a turnkey solution that provides a fast and intuitive way to automate depalletizing. Thanks to its intuitive software, the solution can be set up and deployed quickly, even by someone with little experience with robotics.
From 1.000,00 € a month with lease buy or installment.
Learn more
Overview

Description

Downloads

FAQ

Similar products
Simple and fast setup
The OVI Depalletizer is a true turnkey solution that can be up and running in as little as three minutes. The boot time is about 5 seconds.
Simple operation
The Oviso Robotics OVI Depalletizer comes complete with a URCap for easy management via the UR Teach Panel, as well as the OPM Pattern application for Windows. With this application, new patterns can be easily input and programmed.
Limited downtime with dual pallet support
With dual pallet support, downtime can be limited or even eliminated. When one pallet is finished, OVI immediately starts on the other. This allows the first, now empty, pallet to be replaced with a new one without interruption of productivity.
Eliminate human error
With the OVI Depalletizer System, human error in the depalletizing process can be completely eliminated.
Multi area/zone
Conveyors with multiple areas or zones are no problem for the OVI Depalletizing System.
Featured on Unchained TV
Unfortunately, there are no use case videos yet for this product. Click here to watch other videos on Unchained TV.
The Oviso Robotics OVI Depalletizer is a flexible, turnkey solution for the depalletization of boxes. The OVI Depalletizer is designed to be flexible, easy to use, and able to handle a variety of different carton sizes. The OVI Depalletizer System has a small footprint and can be easily transported to a new workstation with a forklift. The Oviso Robotics OVI offers competitive productivity, no downtime, no human error, and quick and easy application configuration.
How it works
Everything starts with the configuration of the pallet pattern. This is easily done with the OPM (Ovi Pattern Maker) app, which runs on both Windows and Linux. This application allows for the configuration of a depalletizing process with a wide range of potential box and pallet sizes. All this is intuitive and includes multiple screens for each parameter. The application outputs two files, a PDF file containing a palletizing report and a file used in the robot program. Once the pattern is configured, the file is loaded into the robot via the OVI DePalletizer URCap. Once these steps have been completed and the calibration at the station has been successfully completed, all that remains is to press the Play button and the robot will begin depalletizing.
To place an order, send us an inquiry through the button at the top of the page or contact us through the chat.
Talk to an
Automation expert
Have questions about this product, pricing, or your automation projects? Fill out the form and an automation expert from our team will be in touch within 24 hours.