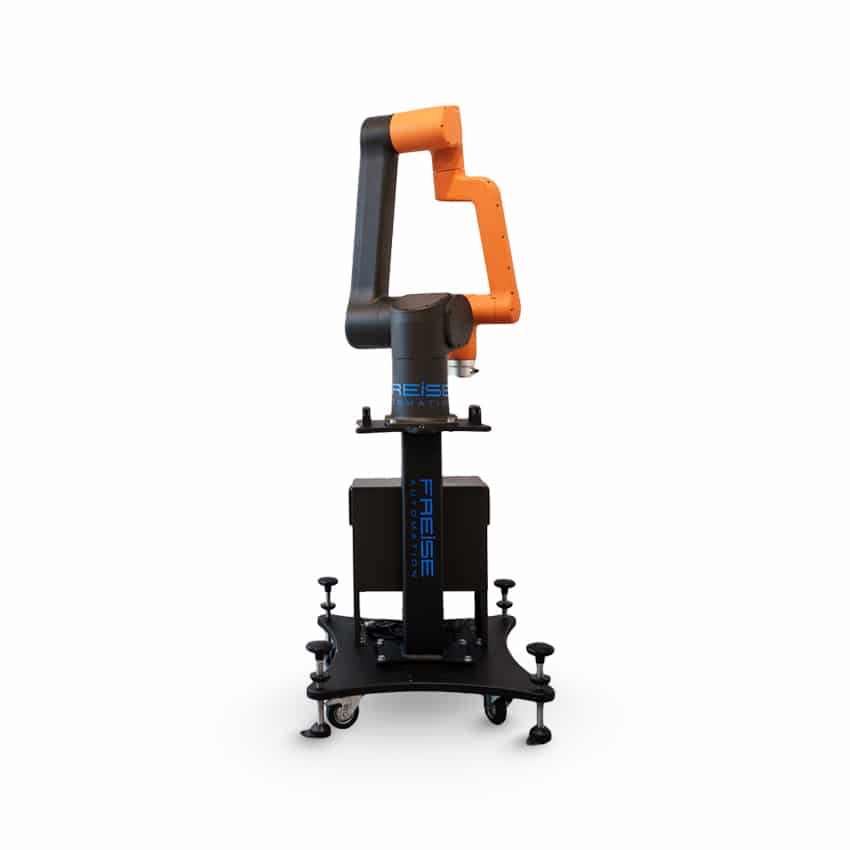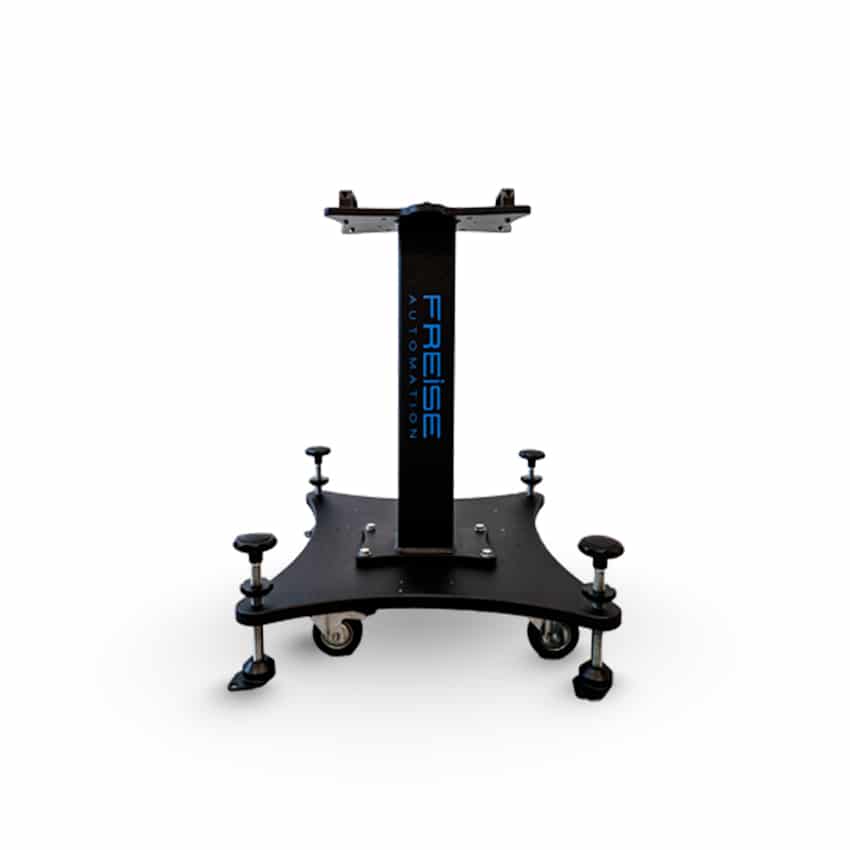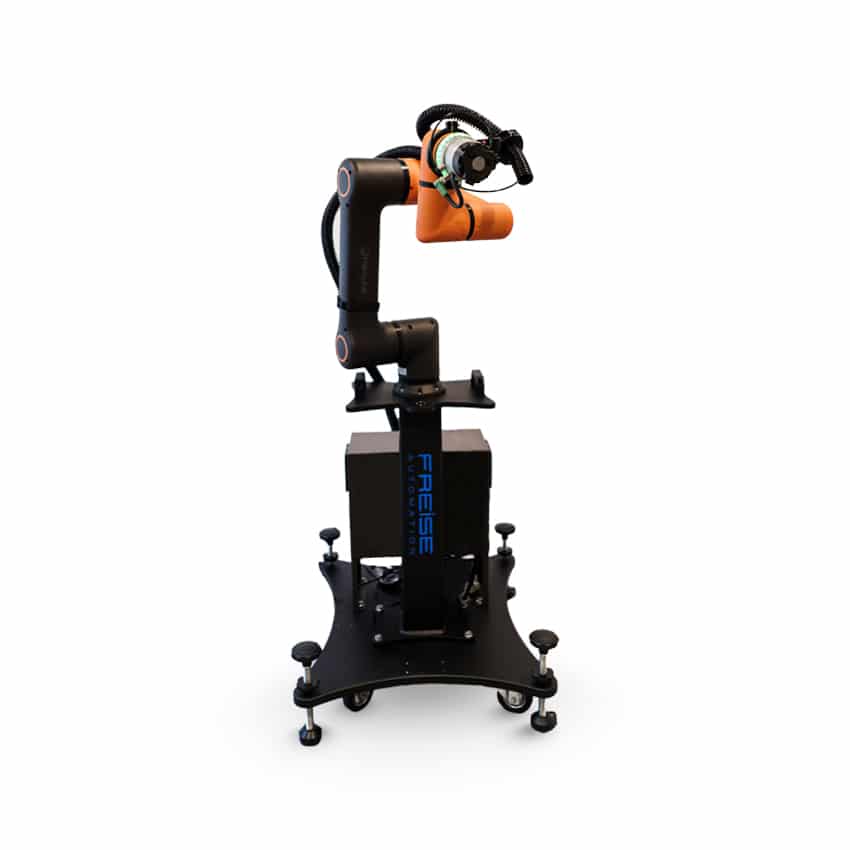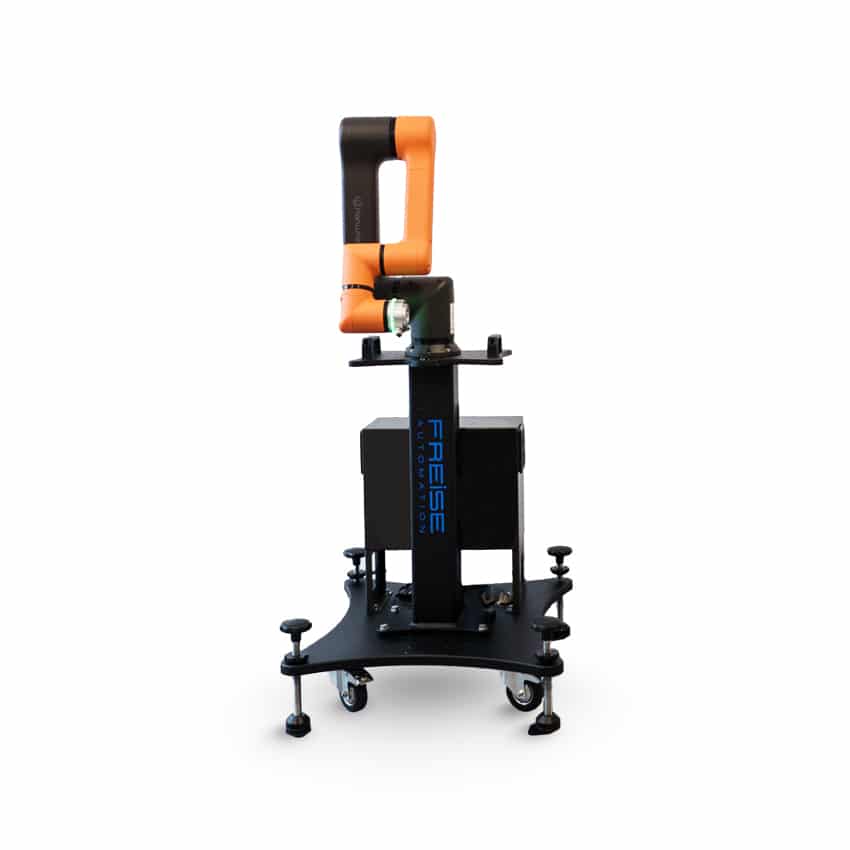 Automation is expensive, complicated and time-consuming? Not with the Hanwha HCR A – Starter Kit!

Dive into automation with the Hanwha HCR-A Starter Kit. With this compact and flexible automation unit you have the possibility to implement various standard applications easily, quickly and effectively.
Choose the perfect Hanwha HCR-A cobot for your process and necessary gripper, and automation is made easy. The mobile pedestal gives you the option of integrating your Starter Kit exactly where its needed. When process changes, the Hanwha HCR-A Starter Kit can be easily changed with it.
Reset
€28,000.00

- €35,000.00

excl. VAT.
From 1.000,00 € a month with lease buy or installment.
Learn more
Overview

Description

Downloads

FAQ

Similar products
Der perfekte Partner
The Hanhwa HCR Cobot is the perfect partner for automating your processes. Almost any activity that is still performed manually can be easily and, above all, quickly automated. In addition to intuitive operation, safety plays a decisive role with the Hanwha HCR A.
Mobile pedestal
Designed for all Hanwha HCR As, the pedestal makes your automation both mobile and flexible. The pedestal can be fixed in a given position, but it also has rollers so that you can move and repurpose the workstation. Unevenness of the floor can be compensated by the built-in bubble level. The Starter Kit includes places for controllers and more, as well as pre-drilled holes along the column. The Freise Pedestal allows you to quickly adapt and repurpose your workstation.
Energy Chain
In order to neatly route cables and thus minimize any sources of risk, the Starter Kit also includes an energy chain. The excellent bending ability doesn't restrict the cobot in its movements and is always an important component in robotics.
Suction cup gripper solutions
Ob Greifen oder Saugen, elektrisch oder pneumatisch, unser Starter Kit bietet dir maximalen Anwendungsspielraum. Mit den Komponenten unserer Partner OnRobot (RG2, 2FG7, VGC10, VG10), Robotiq, (Hand-E), PHD inc. (PneuConnect) oder Freise Automation (Flächensauger – Ansaugfläche einstellbar) kannst du dir das passende System für deine Anwendung zusammenstellen.
Featured on Unchained TV
Unfortunately, there are no use case videos yet for this product. Click here to watch other videos on Unchained TV.
With the Hanwha HCR-A Starter Kit, automating a process becomes significantly easier. The Starter Kits consists of a solid but easy-to-move pedestal, a collaborative robot Hanwha (HCR5 or HCR12) and a gripping system optionally. The Hanwha HCR-A Starter Kit comes complete with a gripper (either electic or pneumatic, from OnRobot, Robotiq, PHD, or Freise).
With gripper, robot, and base all tied seamlessly together, the HCR-A Starter Kit provides the ideal basis for an automation solution. Further, the Starter Kit provides ample room for expansion and customization to fit your needs.
From Pick&Place to dispensing and from assembly to palletizing and machine loading - with the Hanwha HCR-A Starter Kit you are well equipped to optimize, improve, and automate your processes. The Starter Kit excels thanks to the intuitive Hanwha HCR-A cobot, the flexible and mobile compact automation unit, and the low investment costs. With the Hanwha HCR-A Starter Kit, automation is within reach!
Contents of the Starter Kit:

1x HCR Cobot

1x Hose package

1x Gripper - OnRobot (RG2, 2FG7, VGC10, VG10) / Robotiq (Hand E) / PHD (PneuConnect) / Freise (vacuum gripper)

1x Mobile Pedestal - Made by Freise (includes space for the controller and holes on the pedestal for additional, rubberized handles, rollers, level for alignment)
Did not find what you're looking for?
To place an order, send us an inquiry through the button at the top of the page or contact us through the chat.
Talk to an
Automation expert
Have questions about this product, pricing, or your automation projects? Fill out the form and an automation expert from our team will be in touch within 24 hours.