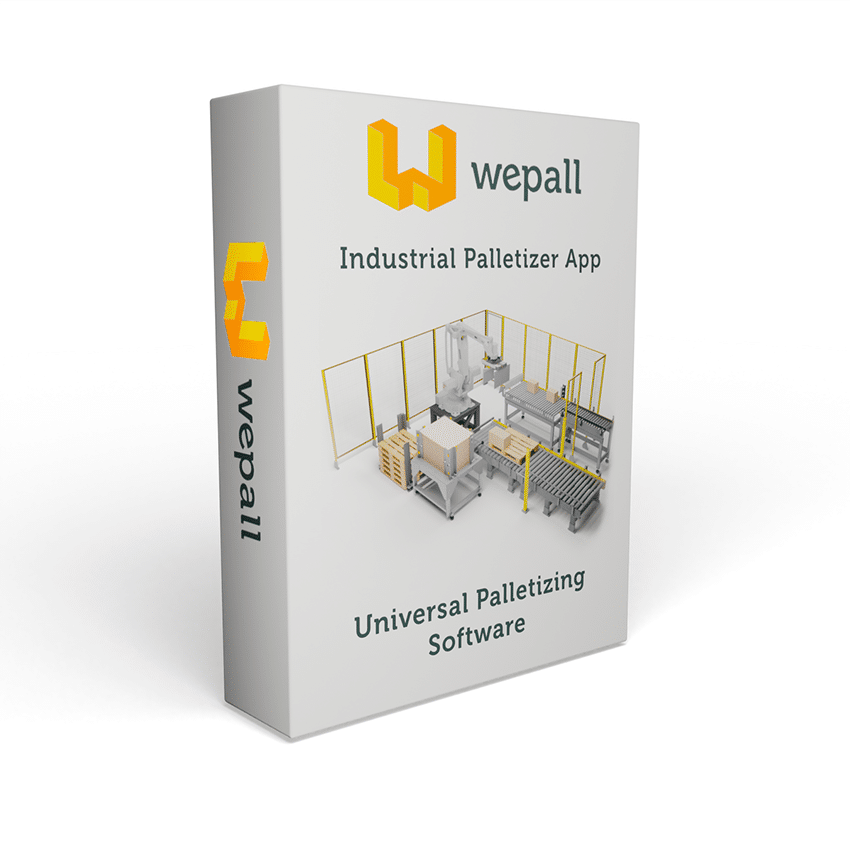 WEPALL Universal Palletizing - Industrial Robots
WEPALL
Universal Palletizing Software for Industrial Robots is a powerful palletizing software solution for industrial robots. Wepall allows you to design pallet patterns and generate programs in all major robot languages.
From 600,00 € a month with lease buy or installment.
Learn more
Overview

Description

Downloads

FAQ

Similar products
Simple and Easy
Wepall allows one to easily configure a palletizing cell without prior experience with robotics programming. This is thanks to an appealing and easy-to-use interface that simplifies the tasks of the integrator and the end-user.
Universal Compatibility
Wepall is compatible with the major robot brands and all programs are generated identically, regardless of the brand, country, or user language.
Autonomous Action
Wepall provides total autonomy for both integrators and end-users. For integrators, they will not have to rely on robot programmers to get the job done. And for end-users, who will be able to generate or modify formats by themselves.
Extreme Efficiency
The time required for both initial setup and later adjustments is greatly reduced with Wepall, thereby decreasing integration costs and increasing overall productivity.
Optimized Output
The programs generated are structured identically and are optimized, the movements of the robot are more precise and the typical human errors from conventional programming are avoided.
Easily Editable
Wepall programs are generated in the language of each robot and, if need be, they can be edited by a programmer. Programs are stored in the cloud and are usable with any PLC or industrial PC.
Super Support
Wepall has a team of engineers who offer personalized customer service. This experienced team specializes in the repair and assembly of peripheralsWhatever happens, Wepall is always at your side.
Featured on Unchained TV
Unfortunately, there are no use case videos yet for this product. Click here to watch other videos on Unchained TV.
Wepall is a powerful palletizing software for cartesian robots that allows you to design mosaics and create programs in any of the major robot languages.
- Instant, safe and error-free robot program generation.
- Multi-device support.
- Administrator controls access and assignment of projects throughout our ecosystem.
- Projects and source codes are stored in the Cloud.
- Offline and remote use, allowing you to work anywhere, anytime.
- Intelligent mosaic generation based on optimization algorithms.
- Stability and movement simulator to visualize how the pallet will behave.
- Automatic palletization report generation with analysis of key metrics.

Did not find what you're looking for?
To place an order, send us an inquiry through the button at the top of the page or contact us through the chat.
Talk to an
Automation expert
Have questions about this product, pricing, or your automation projects? Fill out the form and an automation expert from our team will be in touch within 24 hours.