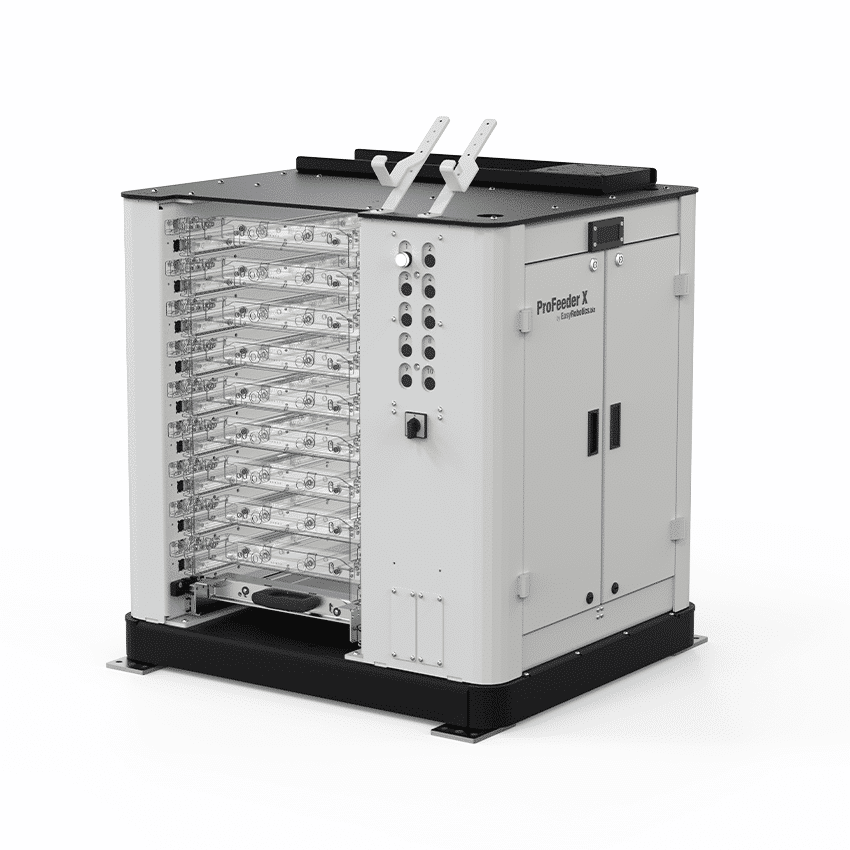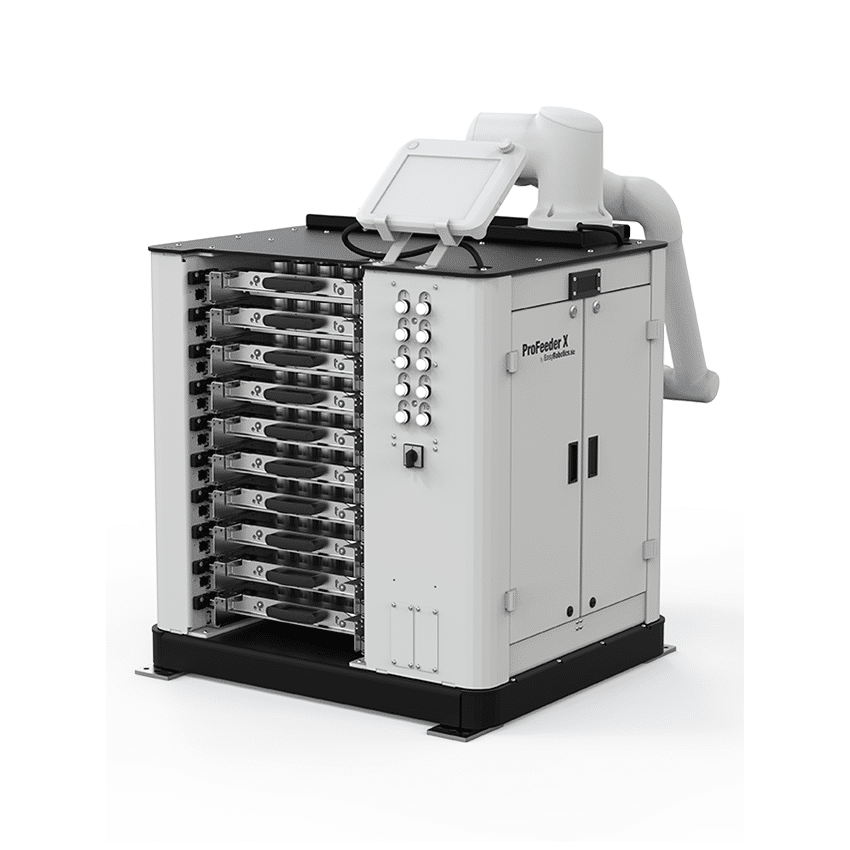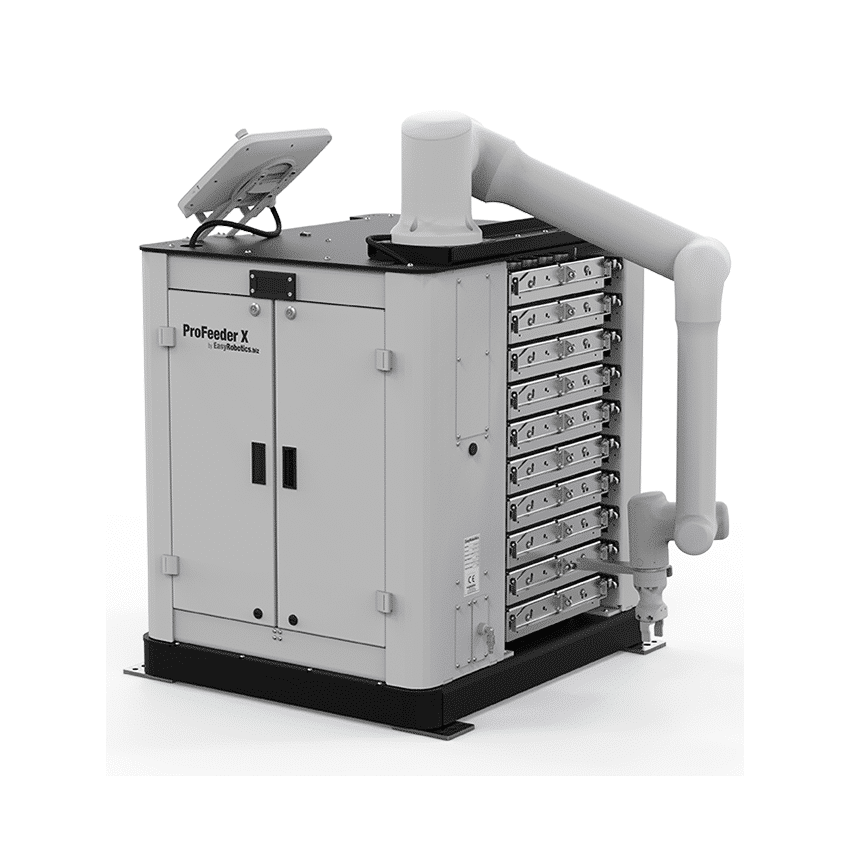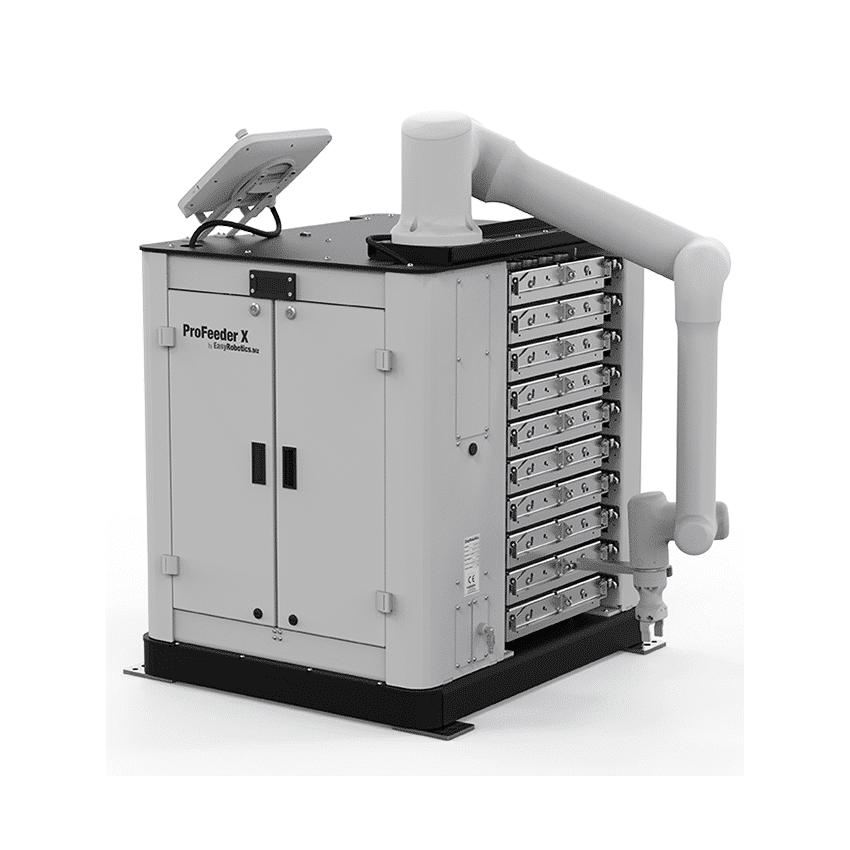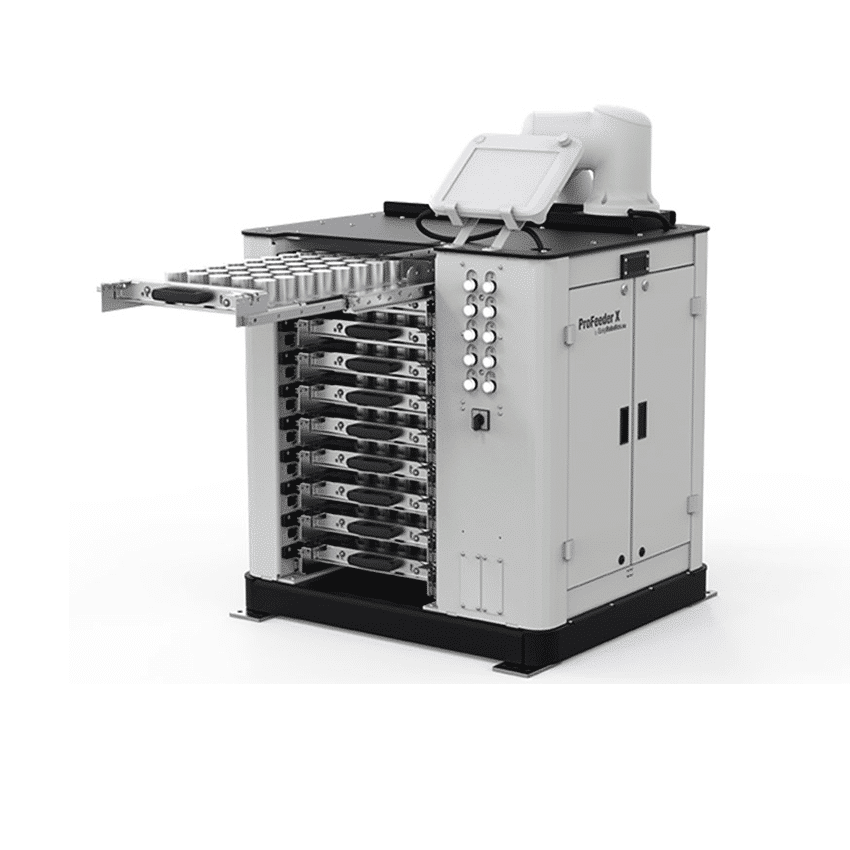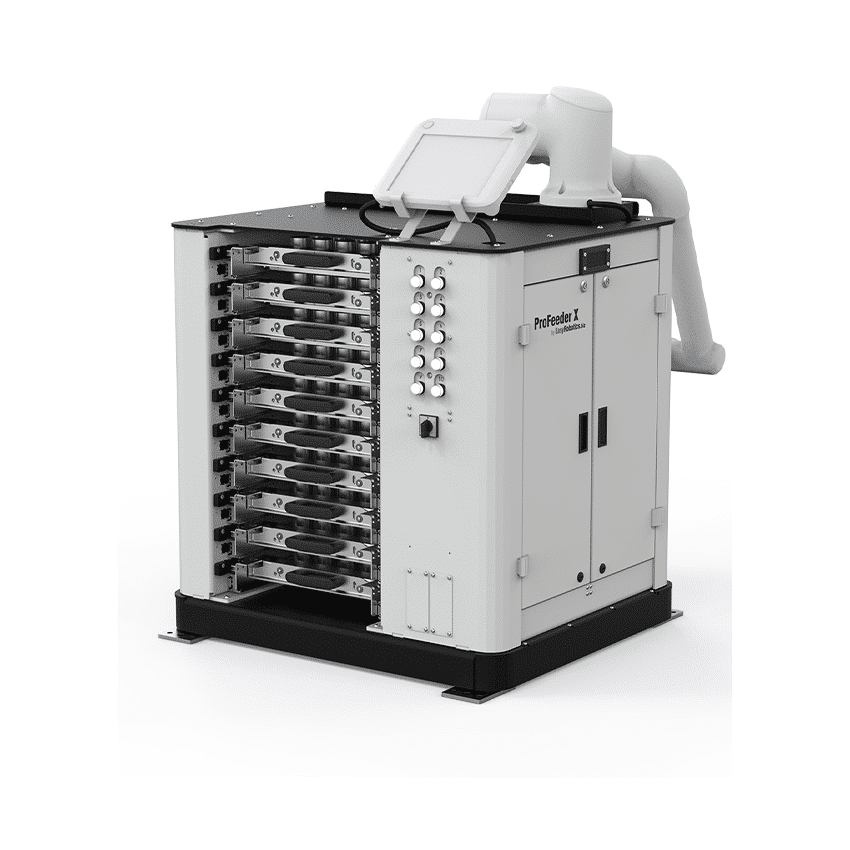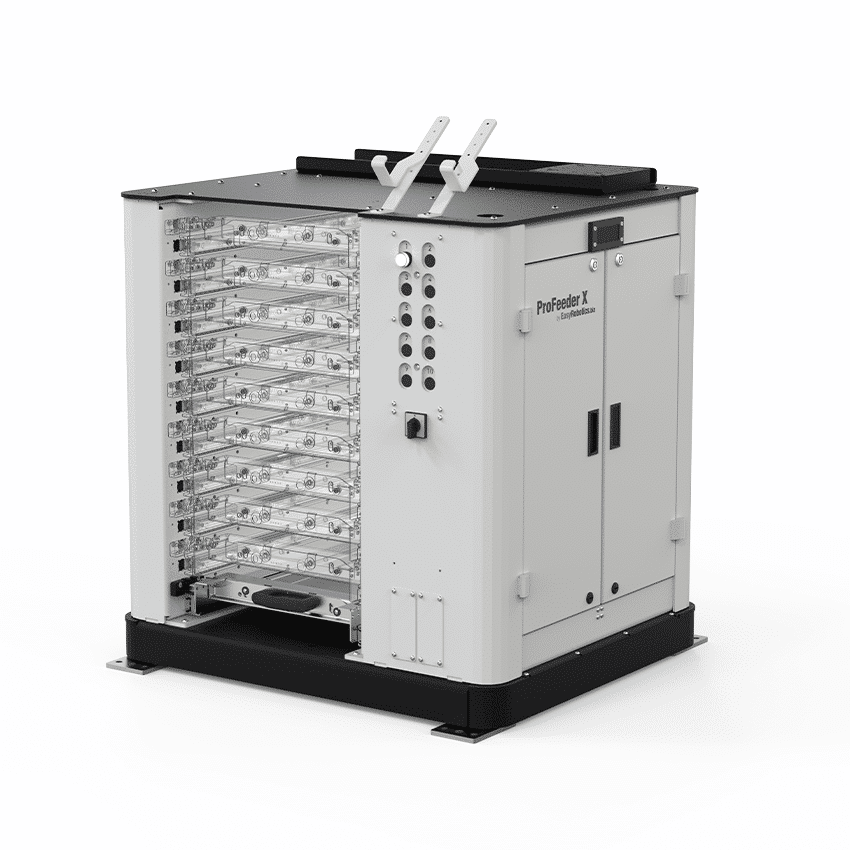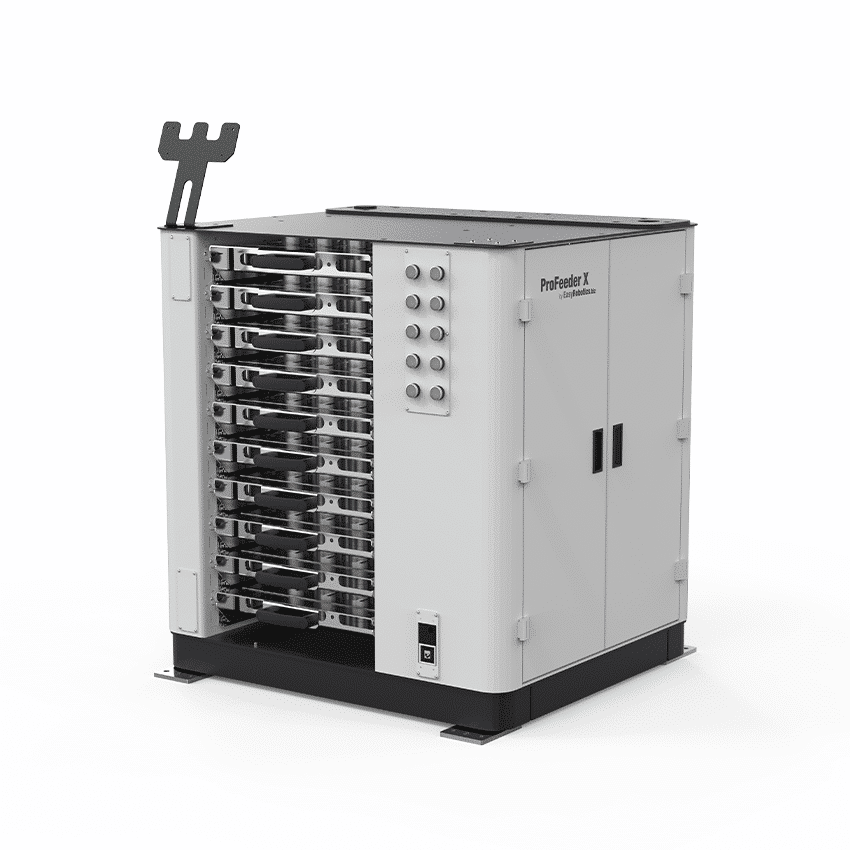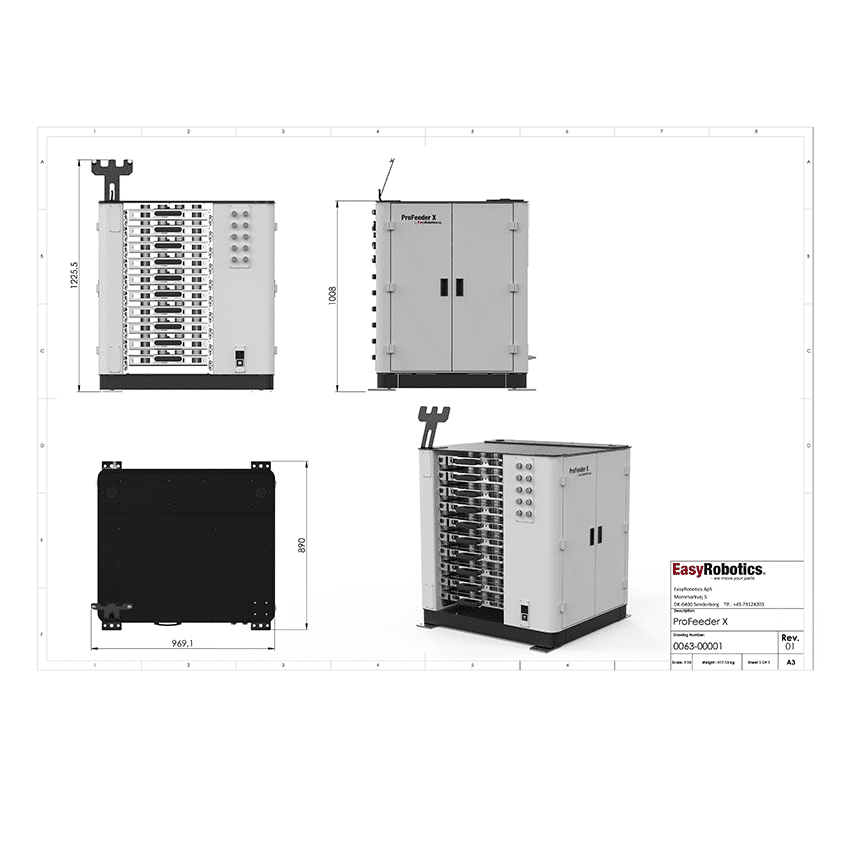 The
EasyRobotics
ProFeeder X is the heavy duty model of the ProFeeder family. Designed to handle higher volume production, the ProFeeder X is a high-volume machine feeding system. It keeps the machines fed so that your production can keep humming along! The ProFeeder X is compatible with a wide range of cobot brands, including Universal Robots, FANUC, Doosan, and more.
Available in both Mechlock and Airlock variations and with tray count options of 2, 5, and 10, the ProFeeder X is ready to take on even the most demanding machine feeding tasks.
Reset
€11,200.00

- €31,200.00

excl. VAT.
From 1.000,00 € a month with lease buy or installment.
Learn more
Overview

Description

Downloads

FAQ

Similar products
Large production
Delivered with 2, 5 or 10 trays options ideally to decrease cycle time resulting in fast production. Robot arms can be mounted in all 4 different angles allowing its ultimate flexibility.
Move around production
Want to scale production and reduce cycle time at your factory floor? The ProFeeder X is a robust machine designed to handle multiple parts in several trays.
2 locking systems available
Mechanical or Air locking systems. Airlocks run in Modbus.
Cross-brand compatability
The ProFeeder X is compatible with cobots from Hanwha, Universal Robots, Doosan Robotics, Kassow Robots, FANUC and more!
Featured on Unchained TV
Unfortunately, there are no use case videos yet for this product. Click here to watch other videos on Unchained TV.
The EasyRobotics ProFeeder X is designed from the ground up to support higher volume production runs. This unique machine that can be equipped with multiple parts trays depending on your needs. If the PreFeeder X had a motto it would be "faster production, lower cycle times" because that is exactly what it was designed to do. The ProFeeder X can support up to 10 trays, providing it with ample room to support your production, whether the run is high or low volume.


Fully Automated Locking

The system is fully automated and very compact, allowing the cell to be placed with just about any machine.
With three different capacity options (2, 5 or 10 trays), the ProFeeder X can work cost-effectively in a variety of production environments. Like the ProFeeder Compact, this system is available with two different locking mechanisms. The Airlock system locks the trays in place through a pneumatic design and the Mechlock system uses mechanical locking. The interlock system is designed to protect the robot operator, prevent process disruption, and also maintain productivity.


User-friendly Design
The ProFeeder X is designed to require minimal set up time thanks to its easy to use design and integrated softare. The system is ready for operation in a very short time. In certain cases, the system can increase productivity by up to 4 times! It can also easily run 12-hour shifts without any human intervention, freeing up workers for higher value-added tasks.The ProFeeder X is flexible and compact; intergrating it into existing production lines and processes generally requires minimal changes.


ProFeeder X has multiple advantages
Working with CNC processes, it can manage heavy metal parts (up to 120 Kg on one tray). It is flexible and accurate for small series production.It can support production that requires batch or mass output.


The different locking systems
Airlock system - comes with an airlock system where the operator won't be able to easily unlock the trays, for safety purposes.
MechLock system - easily accessed by the operator. The operator can manually unlock trays avoiding the need of an air compressor.
To place an order, send us an inquiry through the button at the top of the page or contact us through the chat.
Talk to an
Automation expert
Have questions about this product, pricing, or your automation projects? Fill out the form and an automation expert from our team will be in touch within 24 hours.