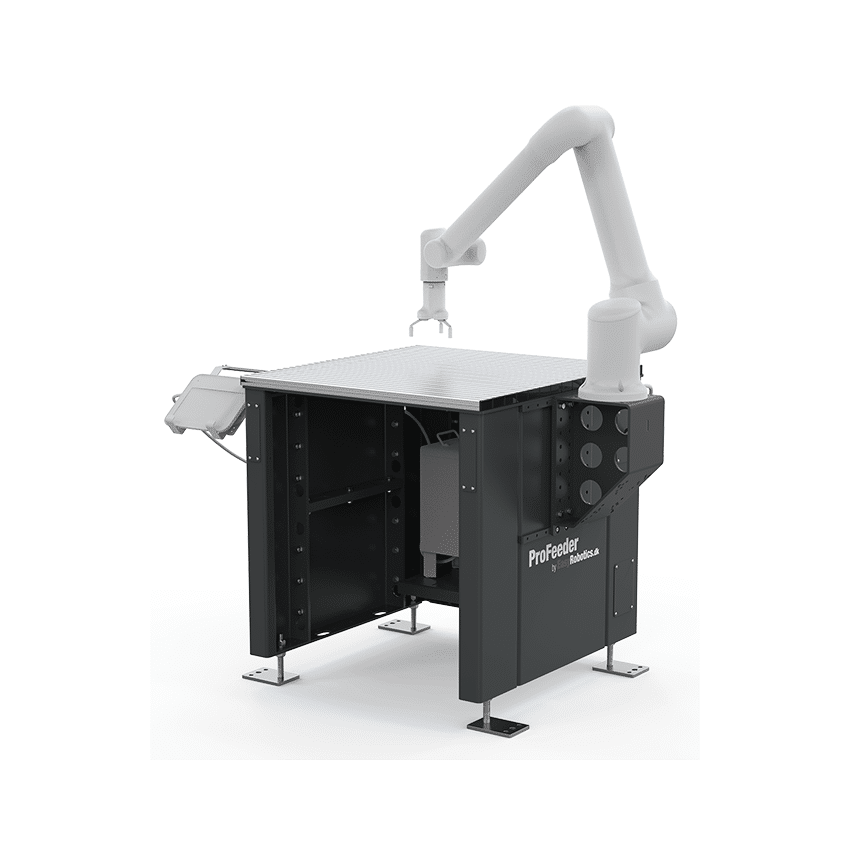 EasyRobotics ProFeeder Table
The
EasyRobotics
ProFeeder Table is an ideal solution for small-scale production, test production, and demonstration in a factory of shop. Compatible with a large range of cobot brands, it provides an excellent base and production environment for whichever cobot you have or are thinking about buying.
The table comes with no parts trays or other superfluous add-ons. It does one thing and does it well, provide a stable and reliable foundation and workspace for your cobot. And at a great price.
From 600,00 € a month with lease buy or installment.
Learn more
Overview

Description

Downloads

FAQ

Similar products
Fast ROI
The EasyRobotics ProFeeder Table is a professional solution designed to provide a return on investment within a timeframe of 6 to 8 months. As the system requires a manual changing of parts to be processed, it is particularly well-suited to small series production, demonstrations, and testing. The table is highly flexible and can also provided with heavy-duty wheels to make it mobile, as well.
Safety Laser
In order to provide extra safety and security on the assembly line, a laser scanner can be added to all types of ProFeeders.
Suitable for
Cutting, Finishing and Polishing, Deburring, Grinding, Welding
Cross-brand compatability
Der ProFeeder Table ist kompatibel mit Cobots von Hanwha, Universal Robots, Doosan Robotics, Fanuc und anderen.
Featured on Unchained TV
Unfortunately, there are no use case videos yet for this product. Click here to watch other videos on Unchained TV.
The EasyRobotics ProFeeder Table is a compact cell designed for assembly, demonstration or test production tasks.
Specially designed for Cobots

This highly flexible cobot workspace is minimalist, with no trays or other add-on features. The ProFeeder Table instead focuses on providing a simple, uniform, and easy-to-use workspace for cobots. It is easy to set up, easy to use, and a cinch to maintain.

The ProFeeder Table gives your cobot the room it needs to work!


Use Cases
The most common use cases for the EasyRobotics ProFeeder Table are product testing, test production, or the conducting of demonstrations.The ProFeeder Table from EasyRobotics is a compact modular robot cell. Installation is simple, staightforward, and sturdy. And once the Table is in place, the cobot can be installed in turn. The table is durable and all manner of clamping tools can be attached to it when working or demonstrating a product of process. In short, the ProFeeder table makes automation simpler.


Strong materials

The ProFeeder Table is designed to be modular. It can be expanded and adapted to fit the needs of small businesses running limited production runs and also those of large businesses operating a fully automated line.

EasyRobotics put emphasis on the workmanship and durability of their products. All ProFeeder models are made of high-quality materials that ensure reliability and reliability. In this case, the ProFeeder Table is made of powder-coated steel.

This material not only gives the metal a fine finish but also makes it seriously durable. Although the ProFeeder table is designed for smaller scale production, it can also support the larger and higher volume production processes by providing an a test area and apparatus for products before they enter or exit the full manufacturing process.

The size of the system is perfect to be placed on the floor of an assembly line without concerns about its storage. Additionally, it does not contain any part trays and comes with only one table that is sufficient for the demonstration or test production.


A Real Space Saver

The floor area requirements of the EasyRobotics ProFeeder Table have been kept to a minimum so that precious floorspace is not needlessly wasted.

Finally, for those who need a moveable solution, the ProFeeder Table can be made mobile through the addition of heavy-duty wheels.

To place an order, send us an inquiry through the button at the top of the page or contact us through the chat.
Talk to an
Automation expert
Have questions about this product, pricing, or your automation projects? Fill out the form and an automation expert from our team will be in touch within 24 hours.