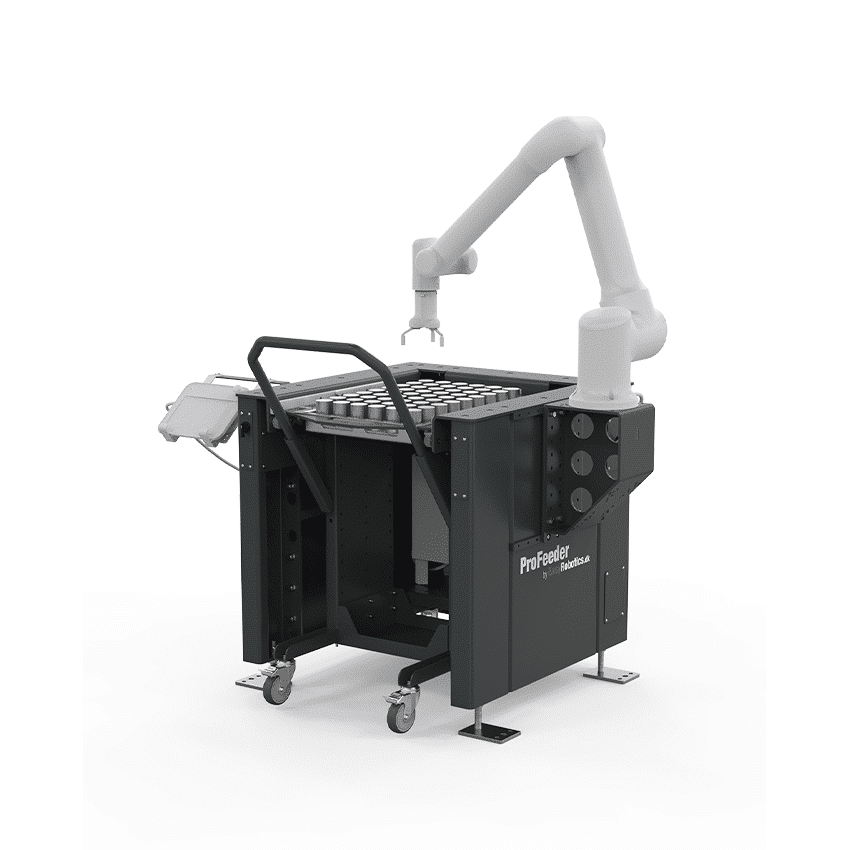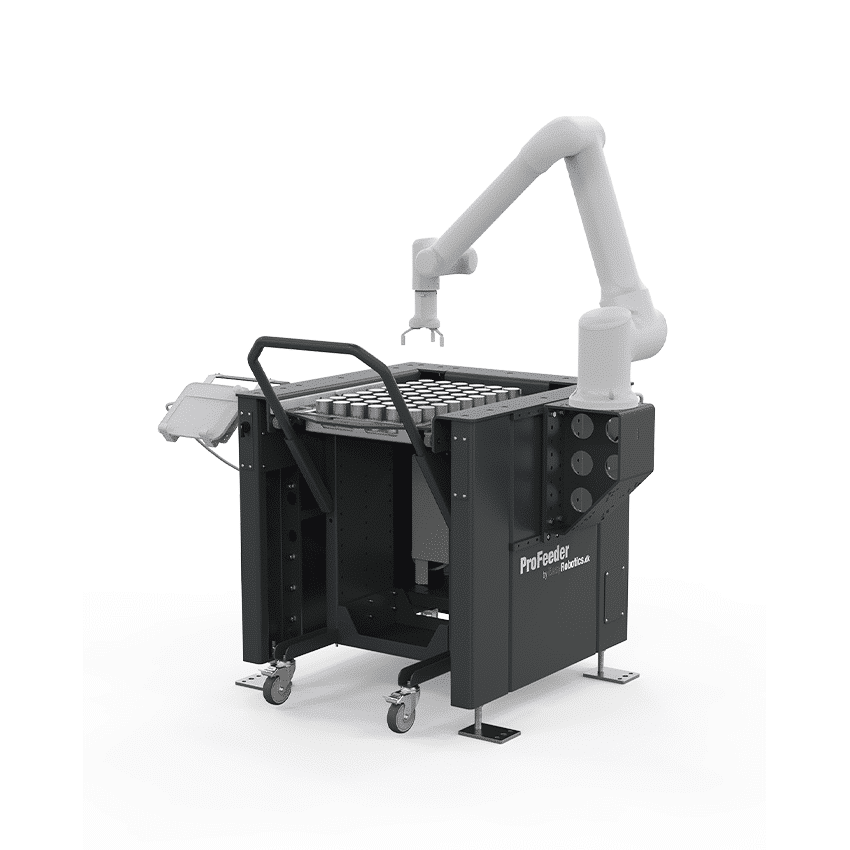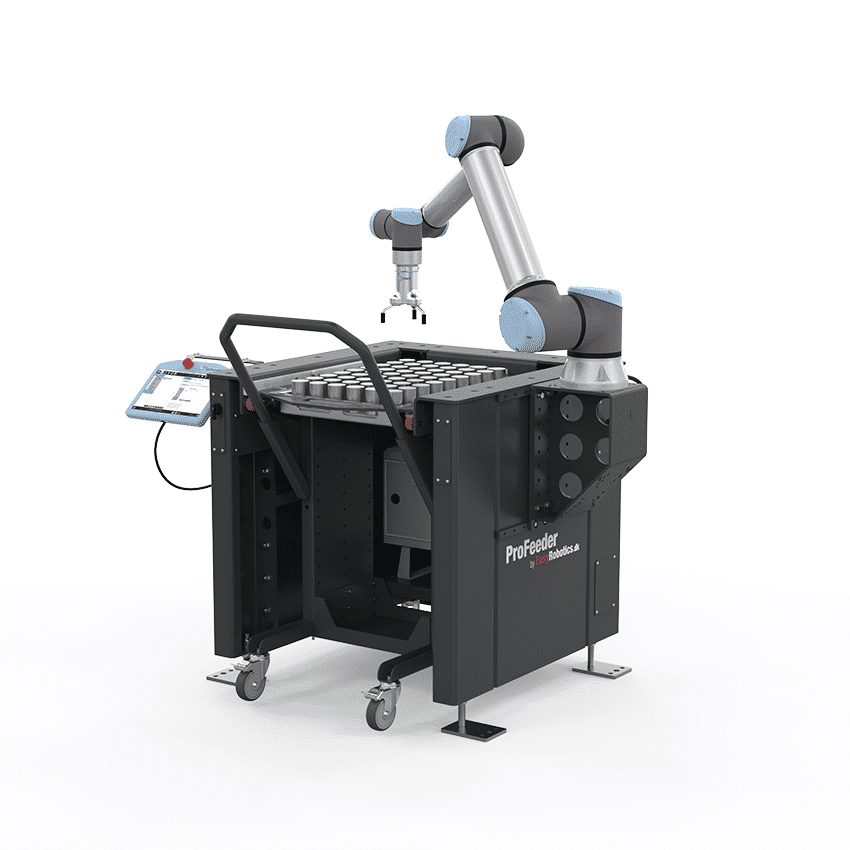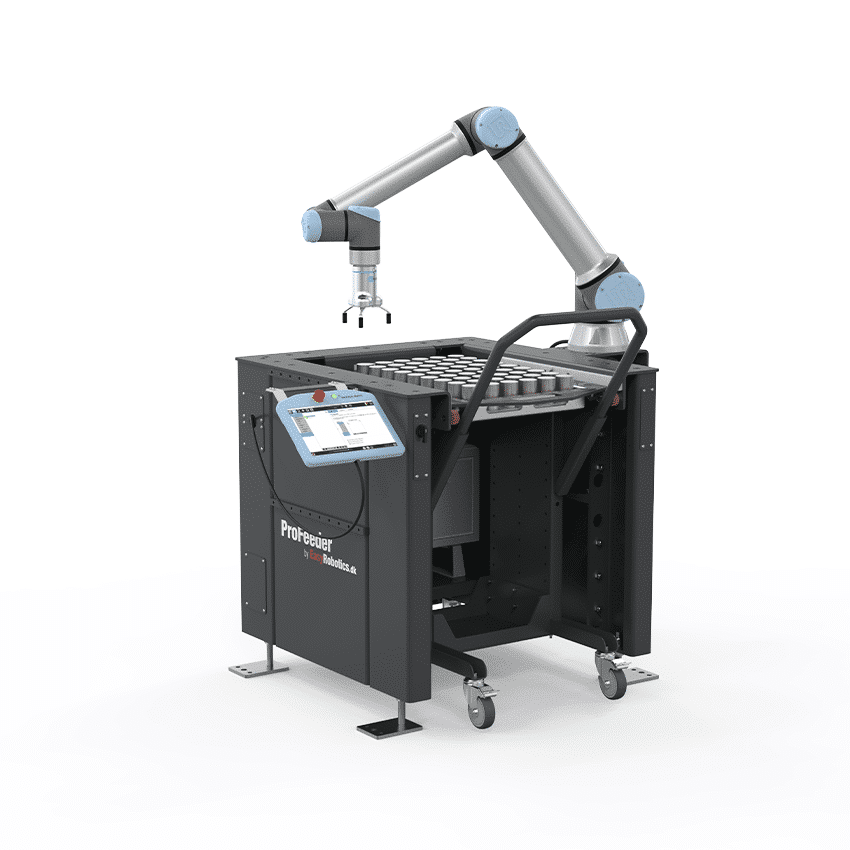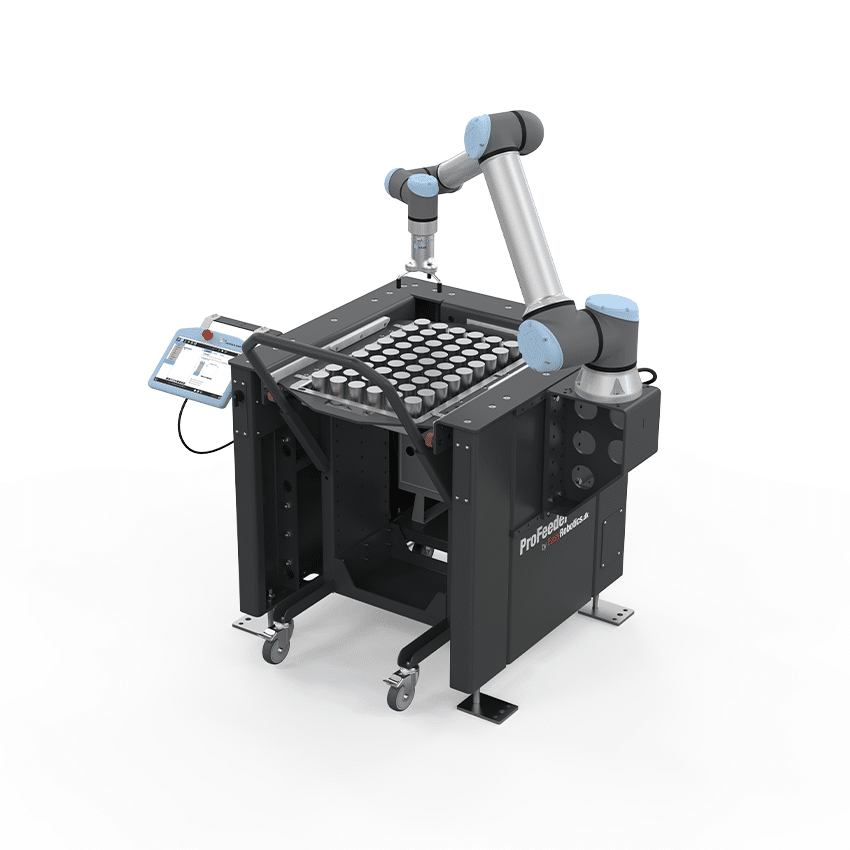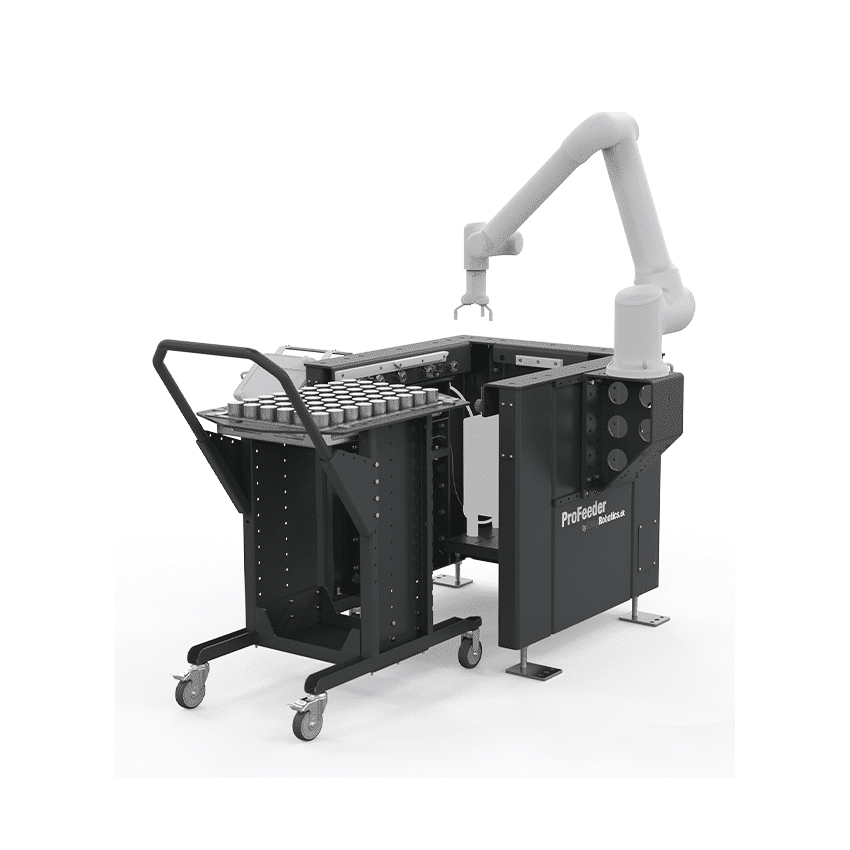 The
EasyRobotics
ProFeeder is an all-in-one system designed to allow for hassle-free machine tending. Designed primarily with CNC tending applications in mind, the EasyRobotics ProFeeder provides a base and work area for your collaborative robot. Bringing new batches of pieces to be inserted and collecting manufactured pieces becomes hassle-free with the ProFeeder.
This compact, lightweight, and durable solution allows you to maximize the productivity of your valuable floorspace, all the while keeping the work area tidy, organized, and productive. The ProFeeder is also available in the ProFeeder Light variant which is designed for smaller scale production environments.
Reset
€5,800.00

- €9,760.00

excl. VAT.
From 600,00 € a month with lease buy or installment.
Learn more
Overview

Description

Downloads

FAQ

Similar products
Increase production
The solution makes it possible to introduce so-called "lights out" production. An operator could be informed by text message or notification should there be a problem that requires his attention.
Fast ROI
With the ProFeeder and ProFeeder Light, the average ROI is around just one year. This is an investment that pays for itself in short order thanks to productivity increases.
Quick series changes
The ProFeeder can be easily moved with a standard pallet lifter. If you need to change its location or bring it to a new machine. No problem! This is ideal for small and medium-sized production environments operating on a high-mix/low-volume workflow.
Increased efficiency
By automating CNC machine tending, you ensure consistent high quality. Man hours can be reduced from 8 to 1 and labor can be moved to high value-added tasks.
Ideal for the following applications
Machine Tending, Polishing, Welding, Bin Picking, Assembly, Measurement
Featured on Unchained TV
Maschinenbedienung
Metall
Maschinenbau
Leichte Automatisierung der Maschinenbedienung mit einem EasyRobotics ProFeeder Starter Kit.
First unveiled in 2015, the EasyRobotics ProFeeder was the first flexible and compact automated robot cell for machine feeding. Today, the ProFeeder has evolved into one of the most capable companions for CNC lathes and milling machines. It allows for the easy preparation of pieces to be manufactured and the collection of already processed pieces.

With the ProFeeder you can build a complete machine tending solution that is reliable, stable, expandable, and affordable. Like all EasyRobotics products, the ProFeeder is made out of 100% metal both to maximize stability and durability but also to make the whole system easier to maintain.

The EasyRobotics ProFeeder naturally needs a cobot companion if it is to work as designed. The ProFeeder is compatible with a wide range of cobot brands, including most major ones such as Universal Robots, Doosan Robotics, Fanuc, Kassow Robots, and Hanwha.

There are several version of the EasyRobotics ProFeeder. Here we see the two standard versions, the ProFeeder and the ProFeeder Light. There difference between the two can be seen below. There is also the ProFeeder X, Flex, and Table - each providing new features to meet different needs.


ProFeeder Light
It is best suited to tasks that require rapid or suplementary order completion. It is most often used in small-scale production environments to make high-mix/low-volume processes more efficient.

ProFeeder is designed for small to medium-sized production and can operate on a two-shift basis. Both the ProFeeder Light and ProFeeder are user friendly, flexible, and compact.


What you get

ProFeeder Light


Weight: 250 kg
Dimensions: L900*W860*H925mm
Comes with 1 parts tray, (without trayplate), a movable with pallet lifter


ProFeeder


Weight: 400 kg
Dimensions: L950*W860*H1125mm
Comes with 2 movers, 2 trays, (80 Kg pr mover), and a movable with pallet lifter
To place an order, send us an inquiry through the button at the top of the page or contact us through the chat.
Talk to an
Automation expert
Have questions about this product, pricing, or your automation projects? Fill out the form and an automation expert from our team will be in touch within 24 hours.