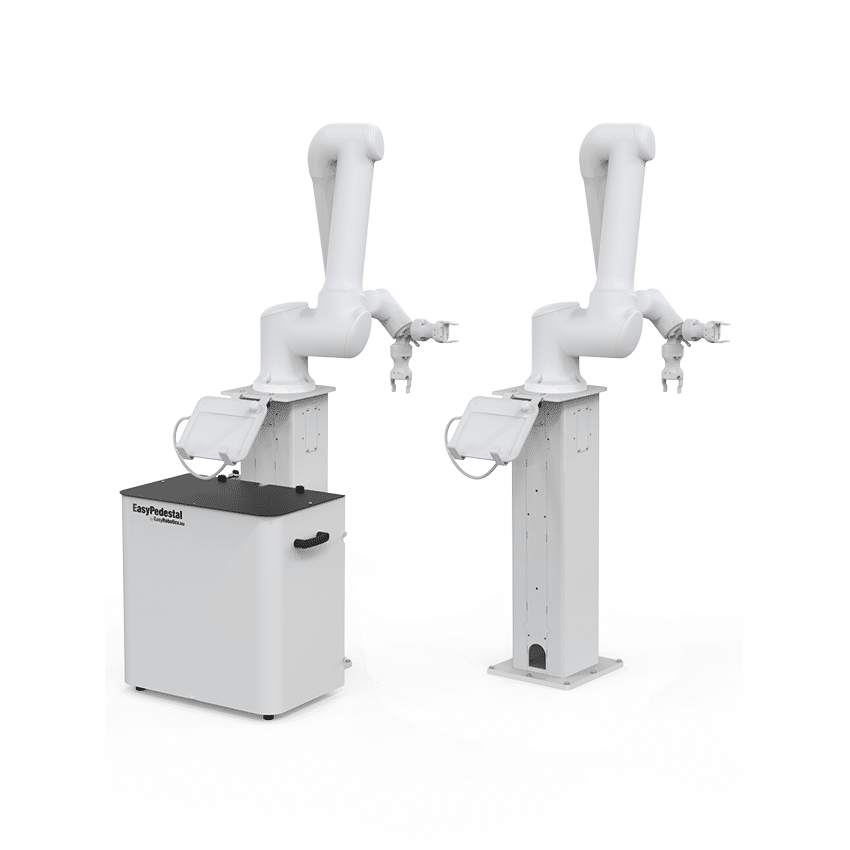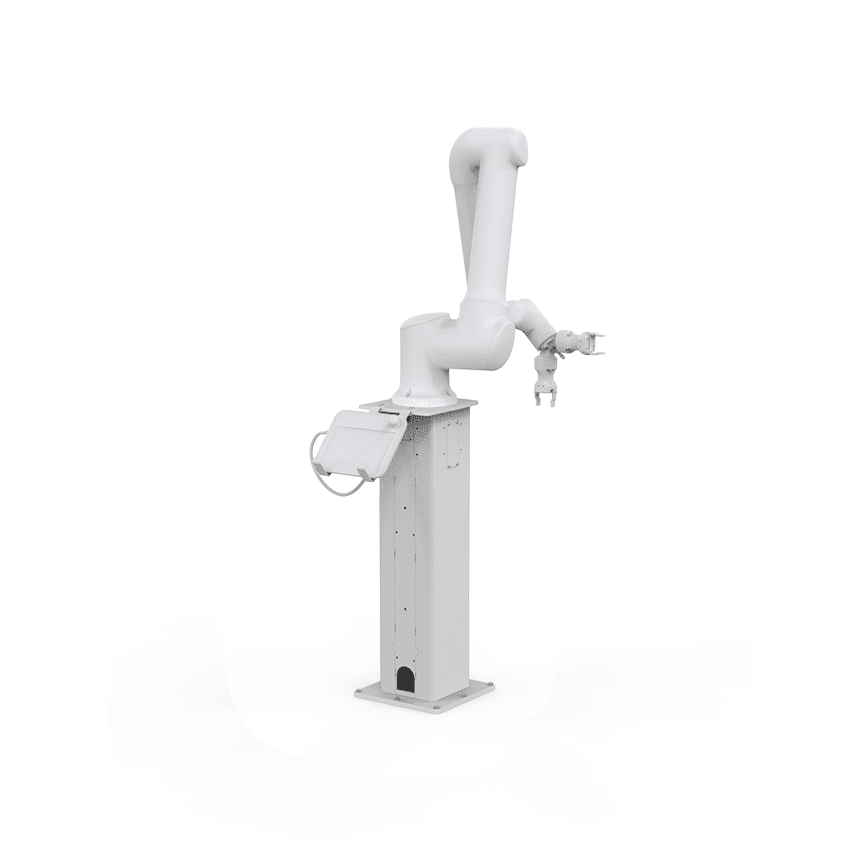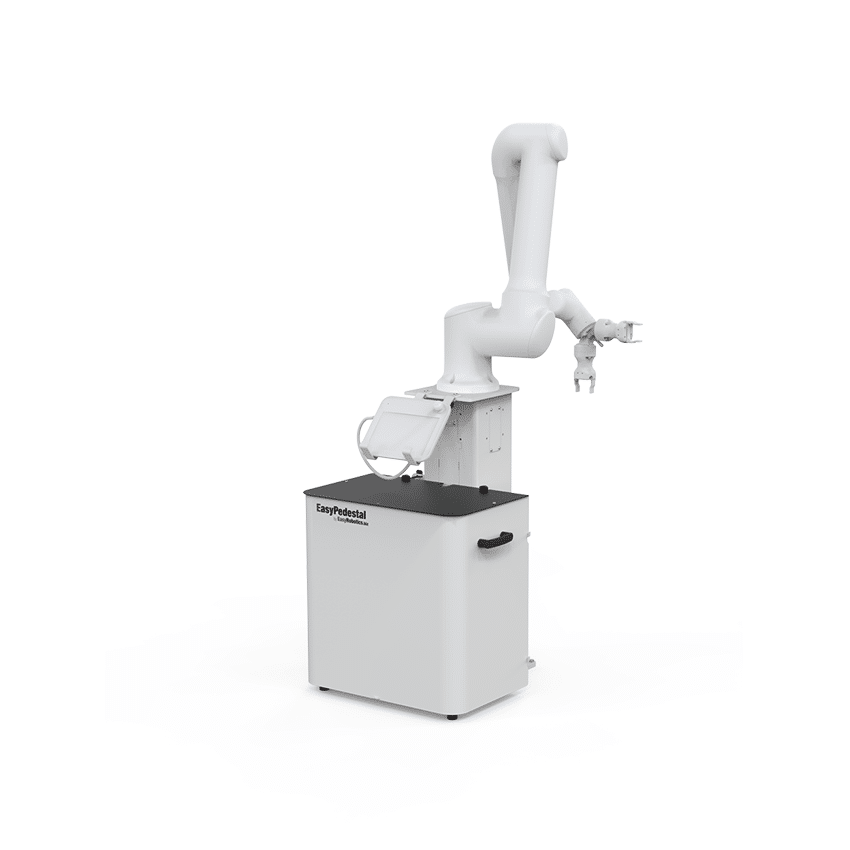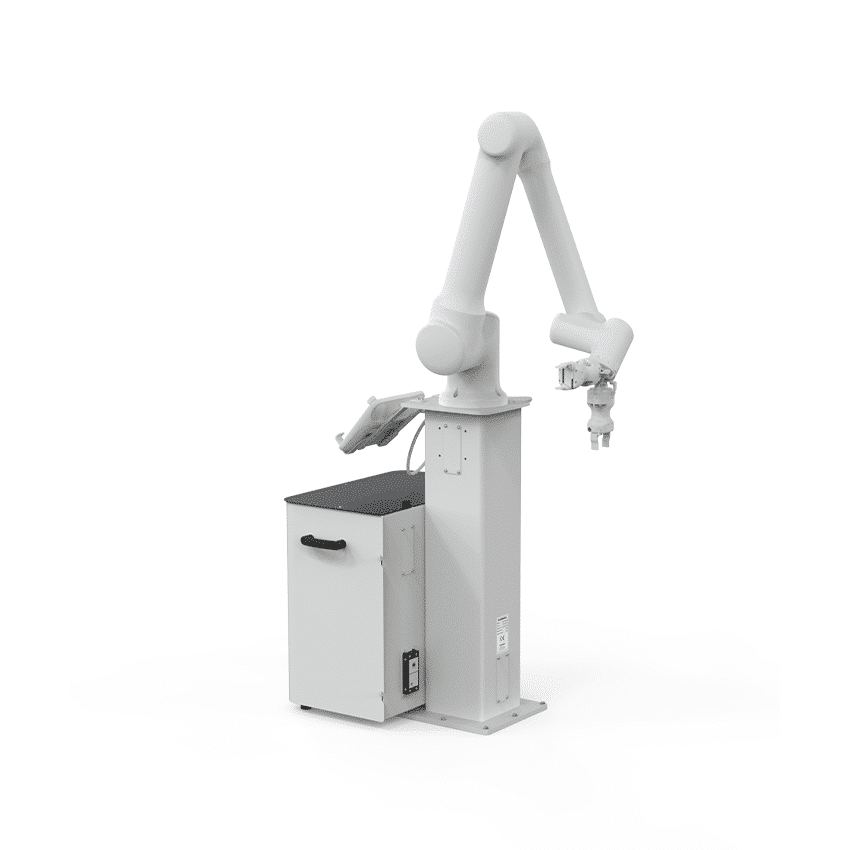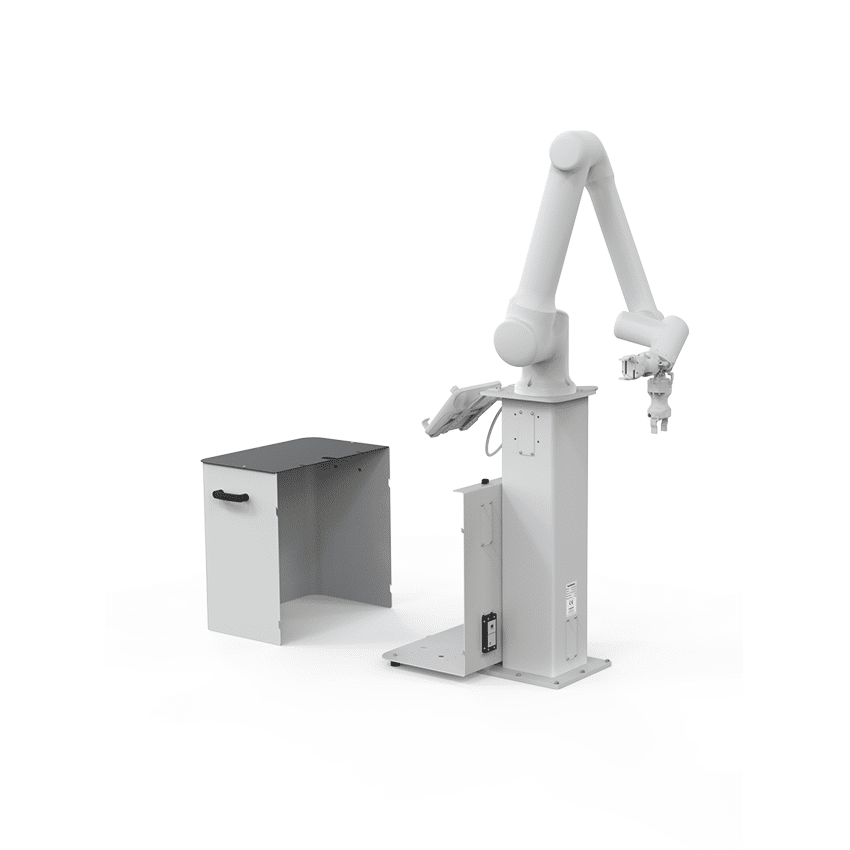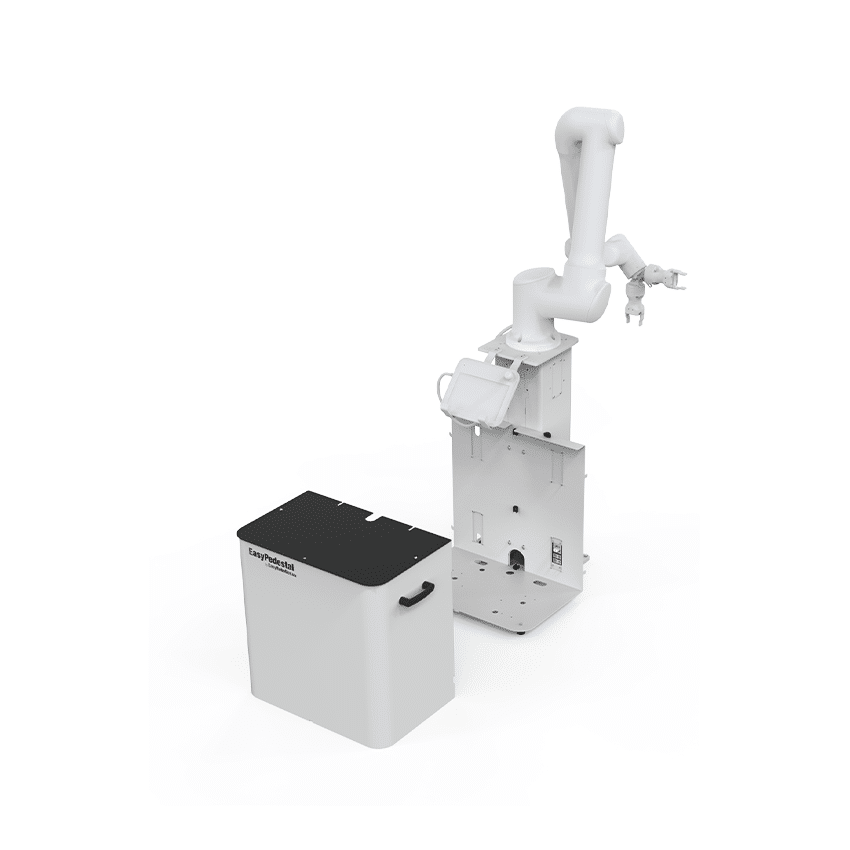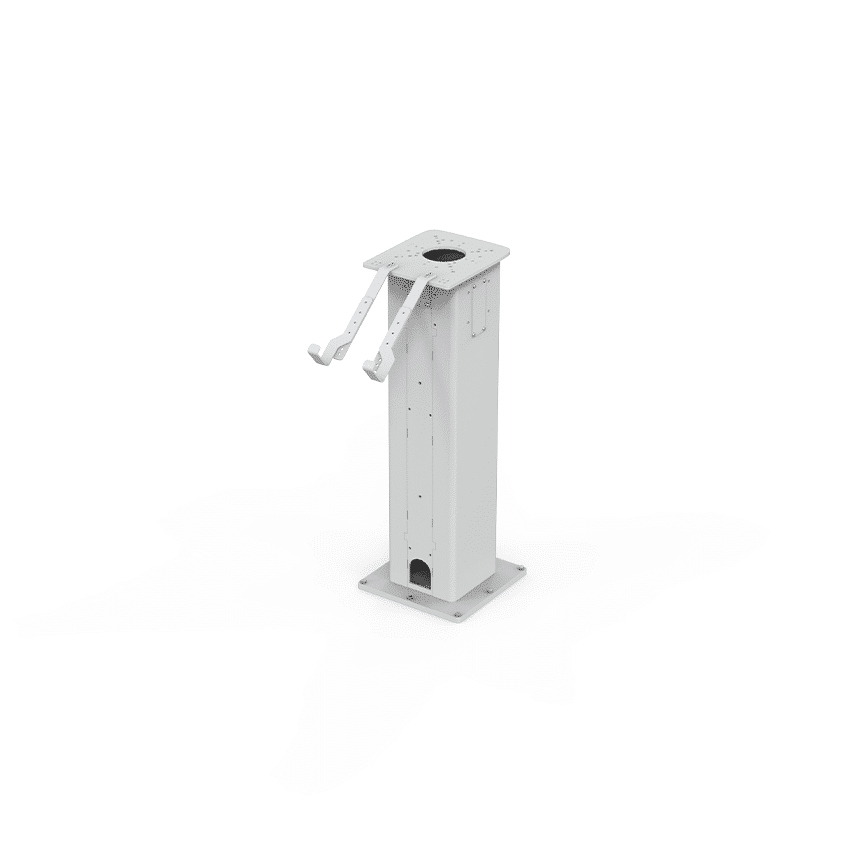 EasyRobotics EasyPedestal
The EasyPedestal from
EasyRobotics
is a solid foundation for your cobot. Compatible with a very large variety of cobots brands and with a height of 925 mm and weight of 70 kg, the EasyPedestal is ready to jumpstart your cobot's production. Ideal for production environments where the cobot needs to operate or feed a machine or work on a table, the EasyPedestal is an affordable upgrade for your cobot.
From 200,00 € a month with lease buy or installment.
Learn more
Overview

Description

Downloads

FAQ

Similar products
Compact
The EasyPedestal is designed to be simple to install and operate in tight space. Save space on your factory floor by combining the EasyPedestal + the ProFeeder Compact – it's a full solution at your fingertips!
Stable
EasyRobotics machines are created from solid metal. This is crucial where durability, dependability, and exactitude count - such as in machine tending applications.
State-of-the-art design
EasyRobotics machines are designed carefully designed to be easy-to-use and flexible. In the case of the EasyPedestal there is a even brand flexibility insofar as choice of robot.
Budget friendly
The EasyPedestal is inexpensive and easy to use. It is designed to add very little extra cost (as you can see above) to your collaborative setup.
Cross-brand support
The EasyPedestal can function with a wide range of cobots including those from Universal Robots, Omron, Kassow, Hanwha, and more.
ProFeeder Compact
Combine the EasyPedestal with the ProFeeder Compact to build a lightweight and easy-to-use machine feeding system with up to 6 storage trays!
Featured on Unchained TV
Unfortunately, there are no use case videos yet for this product. Click here to watch other videos on Unchained TV.

Collaborative robots or cobots are reshaping the world of manufacturing and production.While cobots are having an impact on all industry segments, the impact is particularly great for small and medium-sized manufacturers. As cobots are designed to share workspace with people, they are a safe option for environments where floorspace doesn't allow for a fenced-off industrial robot.

The EasyPedestal from EasyRobotics is an upgrade your cobot. It brings your cobot up a level, literally! This base allows a cobot to easily operate or feed a machine or manipulate pieces on a raised table or manufacturing line.

It can be operated not only in combination with the EasyRobotics ProFeeder or ProFeeder Compact but also used individually. It is suitable for use with a large range of machines and cobots and can be deployed at a variety of workstations. The EasyRobotics EasyPedestal is a very adaptable product with a large number of proven use cases. Experience shows that it works particularly well in combination with ProFeeder.


The EasyPedestal brings your cobot up to your level!

Designed to provide a solid and durable foundation for cobots, it is made from 6 mm powder laminated steel that has cable trays integrated into it. It can be attached to the ground using 8x8 mm screws. The EasyPedestal is 925 mm tall (measured from the ground) and weighs 70 kilograms.

Products designed by EasyRobotics are made not only to function well but also to last and this is the case for the EasyPedestal as well. It's a rock solid base for your cobot designed to be wholly headache-free.

The EasyPedestal allows the robot arm to perform a large number of maneuvers and motions in 360 degrees around the center of the pedestal. It has components designed to ensure a safe working environment, such as the compartment created for the control unit, which helps protect the sensitive parts of the cobot from the risks of the industrial workplace. It also provides additional space to accommodate other equipment and addons. The storage capacity was created to comply with the concept of compact machines, which is needed in the industrial world of today.

The EasyPedestal from EasyRobotics is a highly compact and cost-effective solution designed to provide maximum flexibility - both in use and in robot choice! The EasyPedestal works with a large variety of brands including: Doosan, Kassow, Hanwha, UR, and more!


Variant Information
EasyPedestal Base - H: 925 mm, Wt: 52 kg, T-Pad bracket
EasyPedestal Base One - H: 925 mm, Wt: 64 kg, T-Pad bracket, One table
EasyPedestal Base Three - H: 925 mm, Wt: 88 kg, T-Pad bracket, Three tables
EasyPedestal Pro - H: 925 mm, Wt: 80 kg, T-Pad bracket, Compartment for controller
EasyPedestal Pro One - H: 925 mm, Wt: 92 kg, T-Pad bracket, Compartment for controller, One table
EasyPedestal Pro Three - H: 925 mm, Wt: 118 kg, T-Pad bracket, Compartment for controller, Three tables

Please note, the datasheet for the EasyPedestal for Hanwha, Universal Robots, Doosan Robotics, Fanuc, and OMRON/TM are also available!
Did not find what you're looking for?
To place an order, send us an inquiry through the button at the top of the page or contact us through the chat.
Talk to an
Automation expert
Have questions about this product, pricing, or your automation projects? Fill out the form and an automation expert from our team will be in touch within 24 hours.